The first game in Round 3 of World Cup Qualifying gets underway tomorrow as underdogs China travel to Seoul World Cup Stadium along with a reported 20k fans cheering on the visitors. Are China deceitfully dangerous opponents? How will Uli Stielike approach his team selection? Found out more after the jump.
Context
It's the first game of the Third Round of World Cup Qualifying, which, in terms of this qualifying cycle, is likely the last round as well. Twelve teams made it past the Second Round, and Korea's group of 6 will see them play a home-and-away round robin with China, Syria, Qatar, Uzbekistan and Iran.
As always, the top two teams in the group will advance to the 2018 World Cup, while the third-place finishers in each group will have to go through playoffs to advance as an intercontinental qualifier.
Tale of the Tape
[tb]
, Korea, China
FIFA Ranking, 48th, 78th
Second Round Record, 8-0-0, 5-2-1
Second Round Result, Winner Group G, Runners-up Group C
Second Round Goals, For: 27 + Against 0, For: 27 + Against 1
[/tb]
Overall Record: 17-12-1
Last meeting: 2015 EAFF East Asian Cup – Korea 2-0 China
Political tension, you say?
Our good friends from the North didn't make it through to the final phase, while our even better friends to the East are in the other qualifying group. That being said, as John Duerden reports in the New York Times, there's still some political tension that's come into consideration for the KFA while allocating tickets this time around, and it's coming from the West.
One entirely non-political problem was the initial massive demand from Chinese NT supporters for tickets, so the KFA promised them the entire South Stand and 15,000 seats. However, if you factor in "Chinese locals", namely Chinese foreign students living in Korea, there could be close to 20,000 Chinese supporters in the stands.
The KFA is taking extra security precautions for this game, however, as there is more than just a desire to beat the "Koreaphobia" stereotype that is used to explain China's struggles against the Taeguk Warriors. Duerden writes:
That sensitivity (security issues) is due in part to the South Korean government's recent decision to install an American-made antimissile system within its borders (THAAD). Seoul has said the system is necessary to provide a defense against Noth Korea. But the installment was ket with anger in Beijing, which sees the antimissile system as a threat to Chinese national security.
In light of this, the KFA is working around the clock to ensure the security of home and away fans alike, and also to avoid any "non-soccer-related episodes". Definitely a sub plot to watch for.
A look at the opposition
After a largely successful Asian Cup that saw the Chinese respectfully crash out in the Quarter-Finals after three consecutive group wins, Alain Perrin's next objective was to safely get the team out of the Second Round on the road to 2018. Maldives and Bhutan were fairly easy pushovers, but southern neighbors Hong Kong proved a much sterner test than expected, with two 0-0 draws as boos for the countries' collective "national anthem" rained down on the return leg in Hong Kong. Those dropped points, combined with a loss to Qatar in Doha, meant that the French manager was Cho Kwangrae-style fired before the Red Dragon's two final group games.
The crucial encounter was the second match – a victory against Qatar would put them in competition for a "second place finisher" spot. Huang Bowen and Wu Lei got the goals and new manager Gao Hongbo was 2-for-2.
However, the Chinese aren't coming into this game on fire, not in any respects. Despite a convincing 4-2 win against Trinidad and Tobago, they once again struggled against rigid defensive approaches such as Hong Kong's in a 1-0 reverse at home to Kazakhstan in June.
On the home front…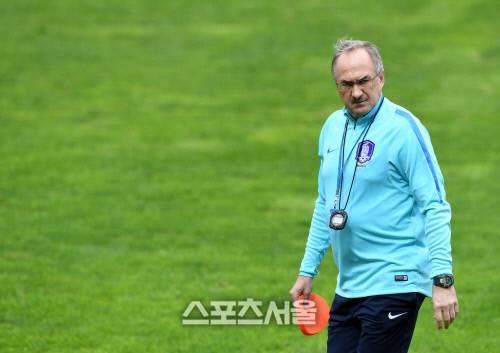 It's still fairly uncertain how the Korean national team will line-up against China, and that goes for pretty much every position on the park. It's anybody's guess who will start in goal, through on recent form, surprisingly it's Jung Sungryong who theoretically would deserve the nod over Kim Jinhyeon and Kim Seunggyu. Newly hired goalkeeping coach Cha Sangkwang will have an interesting decision to make.
There's little doubt of the formation, with the KNT expected to line-up in one of their two, fairly similar formations, either the 4-2-3-1 or the 4-1-4-1. Captain Ki Sungyueng will of course find himself among the midfield pairing, and the wingers will likely be Son Heungmin and Lee Chungyong. After that, however, it's anybody's guess.
Stielike opted to only call-up a 21-man roster, reduced to 20 men when Suk Hyunjun was scratched. It's the first national team game since the European tour (6-1 loss to Spain, 2-0 win over Czech Republic).
What to expect from China
From what I gather, China is a defense first team. You'll recall in the Asian Cup that we even saw the Chinese drop into a 6-back defensive system in latter stages of games. However, they aren't so unconventional from the get-go, with the 3/5 back defense to be expected.
If they can hold the fort in defense, it's all about China's counter-attack. Look at Wu Lei's goal against Qatar in their last World Cup Qualifying game. Quick, smart and ruthless.
Wu Lei is their main threat. One of Asia's best playmakers, Jeonbuk manager Choi Kanghee called him "more dangerous than any of the foreign players" in the recent ACL clash between the Korean side and Shanghai SIPG. Lightning quick, always looking to make something happen with a good football IQ, Wu will be one to watch carefully when China break.
Who starts up top?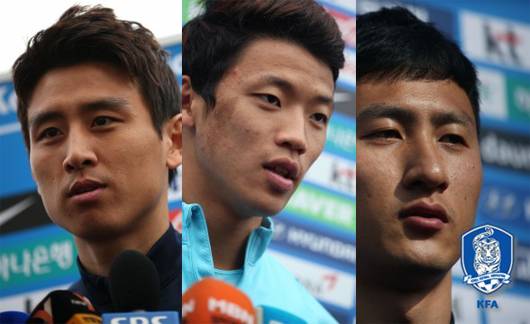 When the call-ups were announced a couple weeks ago, Trabzonspor's Suk Hyunjun and Salzburg's Hwang Heechan were named as the two forwards. Since then, Suk has been relieved of national team duty to help him settle in at his new club, and no player from the reserve list took his place. Which begs the question – who starts up top?
The early favorite was Hwang Heechan. The Salzburg player is making his senior team debut after impressing at the recent Rio Olympics. We know a lot about his skill set and how he plays as a striker. Hwang doesn't stay parallel with the opposition's back-line too often, instead opting to come deeper in wider spaces and interchange with the fullbacks and wingers. He's not the best finisher, but nimble, quick and very good with the ball at his feet.
Another option is Ji Dongwon, who is one of the most versatile players in the strike force, routinely playing out wide or up top for Augsburg. We know all about his problems – questions about playing time and injuries – but he's here, healthy and in good shape. He's far more of a conventional number 9 on this list and if Stielike is looking for a simple, patient, cautious approach with some height up front, Ji is the man he'll be looking for.
The most "quirky" suggestion out there is that Koo Jacheol will start up top, and this rumour has been picking up steam in the last couple of days. It's highly probable that the former Korean captain will be starting this match, but little of us expect him to play as the #9 instead of his usual CAM role.
Hwang and Koo are similar in the sense that they would both be unconventional, false-9-esque players, but Koo would probably tend to lurk in more of a deeper, central position, looking for players to play off of him, as opposed to Hwang, who purposefully comes short out wide. If we can oversimplify another aspect to compare – speed vs physicality. Hwang is undoubtedly quicker, though Koo is far less likely to get muscled off the ball, an interesting aspect if he's playing with his back to goal.
What needs to happen to beat China?
Well, the East Asian Cup squad beat China's senior squad last summer, and what was so satisfying about that game was the fluidity with which Korea played. Kim Seungdae, Lee Jaesung, Kwon Changhoon and Lee Jongho simply gelled and passed with great fluidity. So despite all the hype about China's new, develop world-beaters-from-a-young-age conquer-it-all communist football program, and despite all the high-name signings joining the CSL, the ball is in our court. So it's more of a question of what could go wrong.
The forward options just might not work. The idea of a false-9 is to drag centrebacks out of position, and if discipline is the word of the day for the Chinese defenders, then there's a cause for concern.
Avoid playing with one speed. Players like Ki Sungyueng and Lee Chungyong, of course well-beloved by KNT fans, do tend to sometimes only have one gear. Korea can play a patient, slow buildup game – we expect nothing else – but the team obviously has to be able to switch it up and be conscientious of the possibility of falling into perpetual meaningless passing, devoid of creativity.
Avoid getting caught on the counter. Park Wonjae, of all players, marked Wu Lei out of the Asian Champions League game. However, this might be more of a testament to how Jeonbuk reacted when Shanghai was in possession – their classic pressing game didn't allow Wu much time or space on the ball when he got it. It will be the primordial duty of the left-back, either Jang Hyunsoo or Oh Jaesuk, to limit Wu's effectiveness.
Just score early. Miss after miss after miss was how the Olympic team quickly lost confidence in their goalscoring abilities against Honduras. China will be on the back foot and relinquish possession early on. The longer the game continues at 0-0, the more worrisome it will become for the KNT.
Predicted lineup
If Koo Jacheol indeed starts up top, Ki, in true Stielike style, will likely move into CAM in an attempt to "control" the game from a more advanced position. We've seen Stielike favour Jung Wooyoung and Kwon Changhoon playing with Ki in the past, and he likely is satisfied with balance there.
When Koo comes deep, Son tends to drift centrally anyhow, much like for the Olympic team. Kwon provides penetration from deep with his trademark vertical runs. Lee Yong is the K League's best crosser and will look for Koo's aerial presence, while Jang Hyunsoo is tasked with keeping Wu Lei quiet above all.
Jung Sungryong is in-form and makes it based on that alone, and the centreback pairing is quite frankly a shot in the dark, as all selected players are the cream of the crop in the CSL.
What they said:
Gao Hongbo, Chinese national team coach: "We will not be satisfied with just one point. There are no easy games, but we have come here to win. We want to go all the way to the World Cup."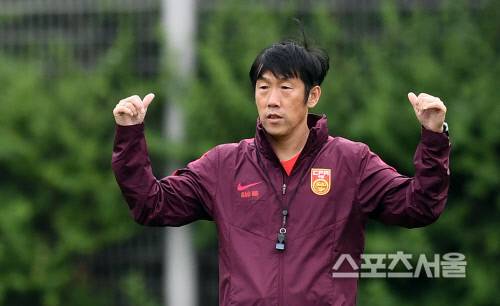 Uli Stielike, Korean national team coach: "We have spoken with the China-based players a lot. They see Chinese players with their own eyes week in and week out. I know that we have a good record against China and we want to show what we can do."
Prediction and Final Thoughts
This game should be an easy win all things considered. China are up and coming, and should not be taken lightly by any stretch of the imagination, but China are still China. The famous "Konghanzheng" curse may have ended with China getting their first ever win over South Korea in 2010, but on technical level and player skill sets, Korea are the better side, no doubt about it.
Stielike will be likely happy with a good performance and a 2-0 win – it's the three points that counts – but so as long as we are technically superior, better is possible. Score Prediction: 3-0 Korea. Let's peg Koo Jacheol, Son Heungmin and Lee Chungyong for goals. That would be a more than satisfactory result.
Stielike says he wants to get things done "his way". If his personality is any indication of what "his way" is, I say: here's to a quiet, smooth, effective final leg of the qualification campaign.
The Skinny
Korea vs China – FIFA World Cup Qualification (AFC) – Round Three
September 1st, 2016 – 7am EST, 8pm KST (local)
Seoul World Cup Stadium
TV: JTBC (Korea), ESPN3 (USA), YouTube or streaming (links shared on our Twitter half an hour or so prior to kickoff)
Daehanminguk fighting!
Extra Time
Controversy as Syria's football association is trying to move the qualifier next week away from Macau. It was originally scheduled to be played in Lebanon, but due to security reasons it was moved to Macau. Syria cannot play in their home country because of, well, obvious reasons.
Son Heungmin doesn't transfer! But a shocking last minute move for Moussa Sissoko could mean even more times on the bench for Son… Kim Jinsu and Park Jooho don't move, the latter apparently generated some interest with Hamburg but it never materialized… Ryu Seungwoo now plays for a Hungarian club!? (on loan)