I was planning on using this time to prepare my analysis, but something more urgent has come up. Anyways, my analysis isn't going to be a very groundbreaking one – it's the same old Korean failures against the same old Iranian side, and it's the same old result. But this same old result, and the aftermath of it, has revealed what is now a public rift between Korean national team manager Uli Stielike and some of the team's star players. Read on after the jump.
Final whistle blows – another frustrating 1-0 loss to Iran at the Azadi Stadium. A fourth consecutive largely unsatisfactory performance from a team and a manager who are feeling the heat. But this time, it wasn't details to be worked on – it was the entire gameplan. A toothless attack, an inept defense and a sloppy link in between the two – Korea was destroyed in every phase of the game, at every time, at every moment. The 1-0 scoreline doesn't reveal how poorly we played and how much the Iranians deserved the victory.
Understandably, the players and the manager are of course disappointed and worried. But the comments post-game – on both sides, players and manager alike – reveal, for perhaps the first time in Stielike's tenure, the degree to which things have spiraled out of control behind the scenes.
I'm going to translate the quotes that genius Korean football columnist Seo Hojeong picked out in his column today, and then deal with them in order. You're free to disagree or to agree, and let's absolutely get a debate going in the comments. Because this is (for Korean standards) borderline…. I don't want to say crazy, but it's pretty unusual and indicative of where things are right now.
Enough rambling, let's get on to it.
Stielike's remarks:
First, Stielike's interview post match had this absolute gem of a quote:
In this place (Tehran) no Korean manager, no Korean players have ever won… no team could have won here today, that is the basic reason… We don't have any strikers such as Qatar's Sebastian Soria, and this is a problem… The real issue is that Korea's youth system isn't fundamentally strong…
Son retaliates (in a not-so-thinly-veiled-way):
It's really unfortunate that a different player was mentioned. The players, especially the forwards, were doing all the preparation they could to write history here today. Each team has good players, so to say that we lack a certain type of player… I think that we have a lot of good players, so the manager's words were just…
Ki tries to reconcile (sort-of-not-really):
Foreign coaches and we (Korean players) have different ways of thinking. In hearing those remarks, I understand why some players could be insulted, but I hope the manager said those things out of a sense of responsibility. We all need to accept responsibility.
Stielike's Criticism of the Youth System
We've heard the latter part of rhetoric before from Stielike, and we've also discussed it at length on this site. It is a real issue, how up-and-coming Korean youth spend time on the bench at their K League clubs, playing un-competitive football in the "R League" or languish in university ranks dominating easier opponents until they feel ready to switch into an environment where they can have consistent minutes AND be challenged. The years between university and making the jump to K League are years they lose to develop and to grow as footballers.
This is obviously a very institutional, complex issue that is far from a quick fix. For all our discussion and complaints about it, we cannot change a thing here on a football blog somewhere in the interwebs with no influence in Korean football or the majority of "netizens".
Stielike is the manager of the Korean national football team! He, presumably, has at least some influence within the KFA that should allow him to air that grievance with the right people at the right time. To do so publicly in the aftermath of a heated game like this is making excuses and astonishingly pathetic. The only scenario where saying such a thing makes logical sense is if he's trying to put some pressure within the KFA on youth directors to accept reforms that he (presumably) has put forward.
Somehow, I don't think that's the case. Stielike may have identified numerous issues within the youth system, and as a former youth coach of the German "Golden Generation" that won the 2014 World Cup, he probably knows about these kinds of things more than anybody else. And let's accept for a moment that he was doing some sort of politicking by blaming the loss (partly) on the youth system. So what? He's not the youth director. He's the manager. Of the national team. Which lost today in a terrible performance. It's not the time to advocate for institutional change – it's time to put your head down, accept failure and reaffirm confidence in the team for the next time around.
Stielike's Soria comment + "no one could have won here".
First off, Sebastian Soria isn't some sort of God. He had a very good game against a very poor Korean defense and he should be commended for that. To say that his play was exceptional after the Qatar game would be simply a manager complimenting an opposition player on a game hard fought.
Stielike's attempt at saying that with a Sebastian Soria, the Korean national team would be stronger, is therefore, in my view, not only somewhat false, but more importantly, completely unnecessary.
We've long lamented how "Korea has no strikers" and that was most certainly true during the 2015 Asian Cup, when our go-to players were Cho Youngcheol and Lee Jeonghyeop. But it's the greatest, most ridiculous of falsehoods now.
Suk Hyunjun had a formidable 2015-16 season, and though his form is waning a bit in Turkey, he's picked it up time and time again, so patience is a virtue. Ji Dongwon scored a screamer after over 2 years last week, and had put in solid shifts for the KNT consistently prior to this game. Kim Shinwook's doing well in the Asian Champions League and K League, and although never "flash" in his shifts, he does what he's expected to do fairly well. Hell, even Son Heungmin's on absolute fire and can play up-top.
So why say we need a Soria?
What we need, Stielike, is institutional reform… on how to approach games against Iran. The same old approach of passing it around midfield aimlessly, letting them score on a set-piece or counter and then not changing a single fucking thing has not yielded any results. 
He's right, no Korean manager has won here, and no Korean player then has either. That's a real shame and a real cause for frustration. But if we were to, for once, shake up our approach and try something gutsy or different, perhaps we'd exploit a weakness we previously didn't tap into.
Stielike's insinuation that things would have gone better with a different mould of forward is yet again passing on the blame. It is squarely on his shoulders to get the most out of the players he has available for selection, not moan about would could have been.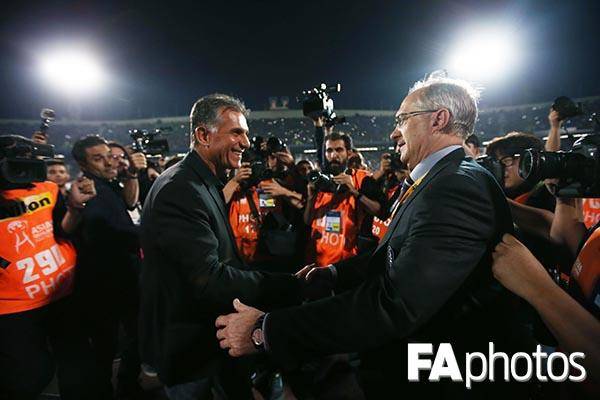 The players' response
It goes without saying that the players should never openly criticize their manager, even if in modern football, often are the times where the manager will criticize the player. I'd return to my Stielike rant and mention how his criticism of the team today was far from helpful or motivational, but rather downright disappointing, but I'll digress.
Instead, we'll just collectively accept that Son's decision to even address Stielike's remarks in public and take offense to them is wrong, and we'll also accept that Ki Sungyueng, as captain, shouldn't even offer a veiled criticism or passing suggestion of a rift, certainly not in public, and certainly not as he is a player with quite a lot of baggage. (Remember his comments on Choi Kanghee?)
So we've criticized Stielike (in length) and the players (to a lesser extent, and in sum), but what does this all mean?
A national team (almost) in crisis
The comments post-game today are telling. The players don't seem to have much faith anymore in the manager, while the manager is deflecting blame off of himself, effectively declaring he is somewhat powerless. It is very rare for these kinds of things to surface and happen so publicly (apart from the Choi Kanghee-Ki Sungyueng row, which was supposed to be private, anyways). If Son and Ki are willing to tell the media they disagree with the manager, and Stielike is willing to tell the media he doesn't have the players for the job, then what on earth is going on behind the scenes?
How has Stielike, who on the outside seems to have a coaching style resembling more of a "fitness coach" than a "studious tactician", and therefore, probably more of a humanist, man-to-man approach, let things degenerate so poorly behind-the-scenes? How has he lost his players, and why is he saying nothing to help their cause?
I'd love to dig up old comments on post-Iran game or tough losses, but Hong Myungbo took the blame more often than not. Shin Taeyong defended his players in the aftermath of the Olympics. Both managerships were flawed ones, but seldom did they complain about things beyond their control in order to avoid saying "I take responsibility".
I'm not unconditionally defending the players. Football is played by 11 men on both sides, and our 11 men didn't get the job done today. But they know, more than anyone, that responding to Stielike's quietly incendiary remarks can create anger among the Korean netizens and is a direct shot at Stielike's popularity and job safety.
And Stielike should know better than to blame everyone and everything but himself.
Maybe these things were said in frustration or in anger. They certainly were said out of passion. Nonetheless, they were said in public, by a suddenly unpopular manager and by players who seem to feel somewhat betrayed by their boss' lack of faith.
I said at the beginning of this international break that the court was in session for Uli Stielike's managership of the Korean national team. I don't want to be overly dramatic, but after this result and this debacle, the verdict seems ever closer to a damning conviction.