After watching the Oman game and reading about the Kuwait game I nearly quit watching the Asian Cup altogether. But I am SO glad I woke up at 4 am to watch this because man it was refreshing to see a decent performance from the KNT for once. We ended up securing the top position in Group A but was it worth that extra effort? I'm not sure myself actually since there are good arguments on both sides – read on and tell me what you guys think.
Lineups: 
Korea started in the usual 4-2-3-1 again pretty heavily rotated. The formation largely stayed that way in practice, with occasional hints of a diamond 4-4-2 with LJH + KJC up and Ki in that hole. Thank goodness Ki was pushing up forward far more often today, because without him our attack wouldn't have worked very well and we certainly wouldn't have snagged that first goal.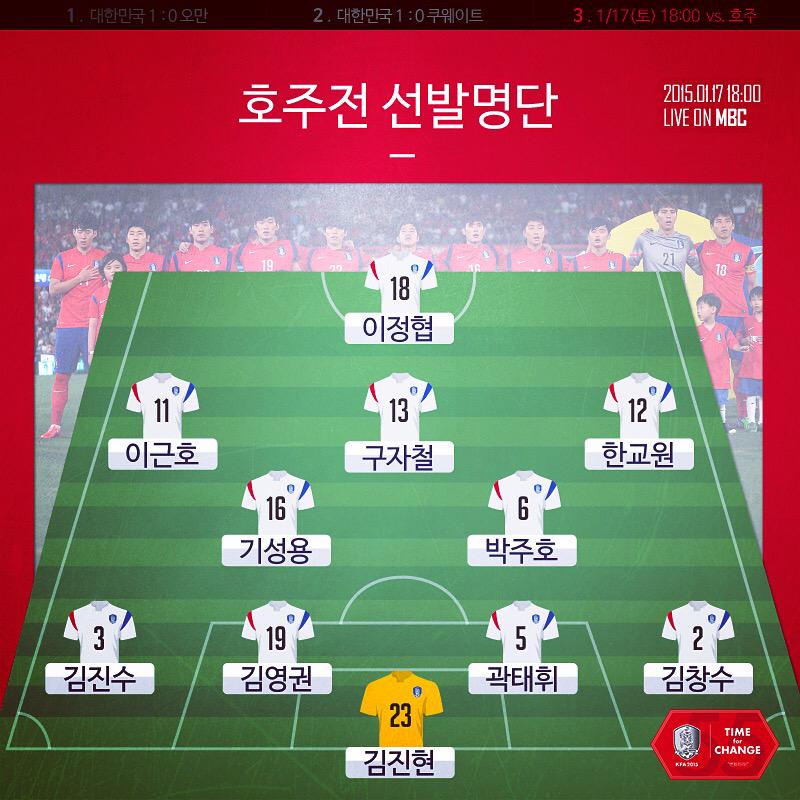 When I first saw this lineup at 3:50 AM I actually told myself "****, back to bed?" Well I very nearly did go back to bed when very early on Kim Young Kwon made a horrendous error that should've led to an Australia goal (thankfully Australia's forwards were pretty bad this game). Kim Young Kwon stayed pretty bad througout the game, yet for some reason, to be discussed later, we looked much more defensively sound than in previous games.
Australia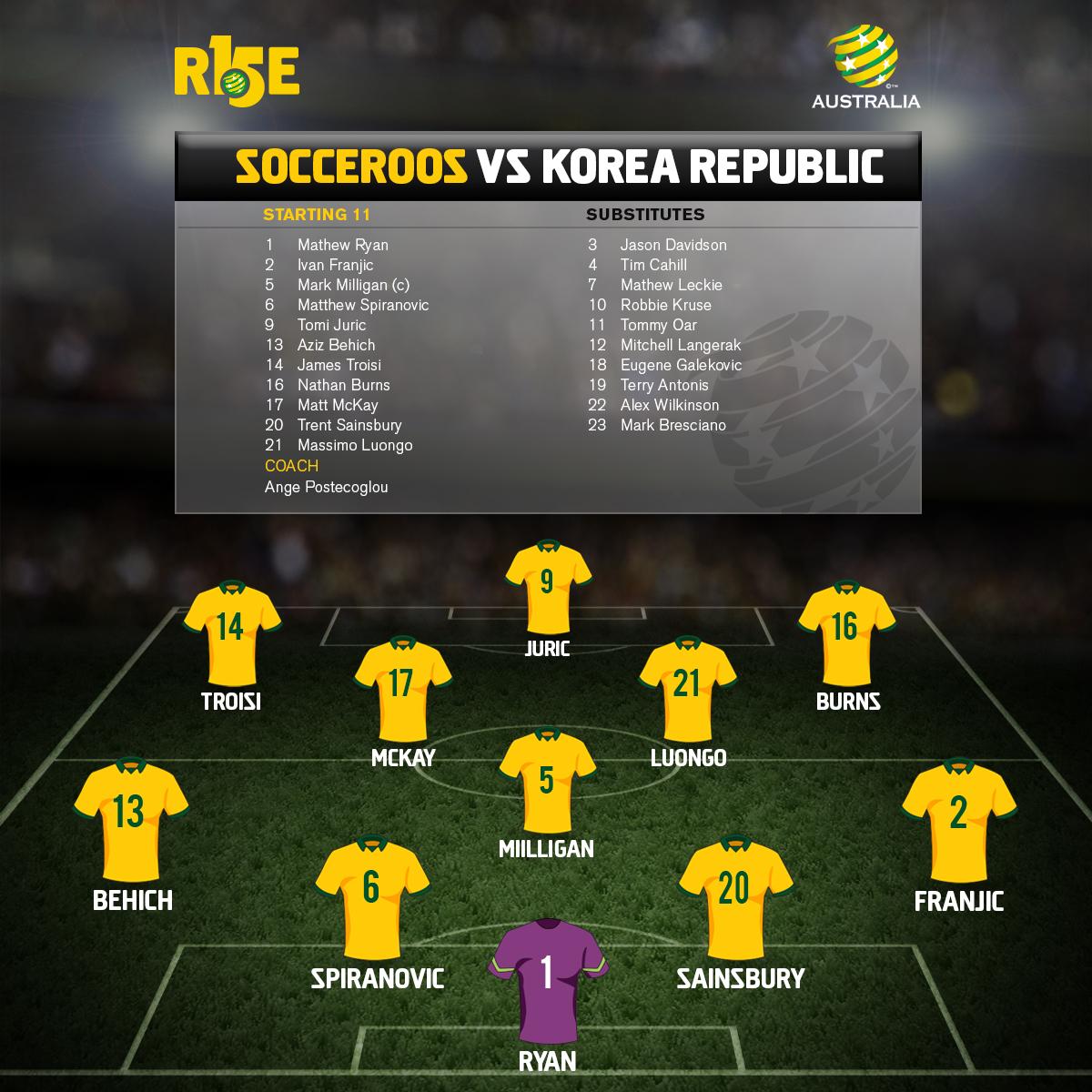 Did Australia underestimate us? What you see here is pretty much an Australia B team, missing Cahill, Kruse, Jedinak, and Leckie. That being said, Luongo and Burns, who have been very good throughout this tournament, were constant threats and caused problems for us at times with their dribbling. Fortunately, Australia did not have their finishing boots on today.
First Half:
Korea actually started pretty brightly, and our play was pretty smooth, with the offensive players making good runs and creating chances. Within 10 minutes, though, things started to go wrong, starting with KYK's massive mistake and some frustrations in the offensive end. Then PJH got injured very early on due to a pretty nasty blow to the head, making me extremely worried that we were pretty much done for this match. Yet around the 30′ mark, while PJH was off the pitch getting treatment, somehow we score a goal out of nowhere. A KJS throw in found LKH –> Ki –> perfect throughball into space for LKH –> shot/cross I still don't know what it was –> Lee Jung Hyub makes slight contact for minute deflection which was enough for the ball to sneak under Matt Ryan's arm.
One big concern in the first half was that PJH, after getting hit in the head with a possible concussion, was let back out onto the pitch. Very bad idea, just like it was a bad idea to let LCY keep playing. I really hope he is available for the next game, but I am actually personally hoping that we can field a B team against Uzbekistan or Saudi Arabia, or at least go for a 1.5th team and sub out key players early.
At the end of the first half Korean fans had every reason to be upbeat. Compared to the previous two games the off the ball movement improved dramatically, most evident with LKH's goal. The passing wasn't nearly as horrendous as it was against Kuwait, and I guess first touch / end touch could've been better but well that's something that's hard to fix. Even the defense was better, but I personally think that's because we weren't exposed on the counter very often and for the most part sat back and kept defensive shape.
KJC, KYK, and KCS ended up as the main underperformers at the end of the first half. Koo was pretty much ineffective period, KYK was being his usual KYK self, and KCS started off very bad and couldn't cross to save his life but I think he got better towards the end.
Second Half:
I don't think I've ever seen a team field more injury subs than tactical subs, but we just have, as early on in the second half Koo fell down injured. It looks like he fell on his wrist after a challenge from I think #17, but for some dumb reason their #17 started to tug on KJC's hurt arm for him to get up. SHM came on in KJC's place and actually made an immediate impact, with one especially impressive dribble:
As KJC got injured the game turned pretty ugly. Yellows and tackles started coming in, and I was worried that if the team didn't calm down quickly, we would surely concede. Fortunately, we did calm down, but by substituting Jang HS for HKW (an effective sub, I must say) and pretty much sitting back and waiting for the counter. The Australian pressure intensified with the introduction of Cahill, Kruse AND Leckie (without taking out Juric), yet somehow we held on, much thanks to Kim Jin Hyeon's heroics.
So as we sat back and defended for our lives, we actually got three clear chances on the counter. In fact, we ended up with three clear 1v1s with Matt Ryan. It really concerns me that we scored none of them. But despite like 7 minutes of extra time Korea held on for the 1-0 win, making us winners of Group A.
Individual players worth mentioning:
Kim Jin Hyeon – Phenomenal. I think this goes without saying, as KJH pretty much kept us in the game and ensured that we topped the group at the end there.
Kwak Tae Hwi – I have long been a semi-hater of KTH, especially after he kinda screwed over our AC hopes the last time around by single handedly (and very stupidly) conceding two penalties, resulting in us having to go through Iran and Japan in the QFs and semis as opposed to Australia's FAR easier opponents. Had KTH not conceded those two, Australia, Iran, and Japan would have had to battle out on one side of the final, while we would have had an easy route to the final PLUS one extra day of rest, and with the quality we had back then I honestly think we could've won the tournament. Anyway, KTH was good today. His aerial ability was EXTREMELY needed against Australia and KTH actually didn't make very many mistakes.
Kim Young Kwon – this man is the black hole of the KNT defense. Arguably our worst player vs Australia. Hope to see a KTH + JHS pairing next, or if KJY comes back from illness/injury,  KTH + KJY. Koo Ja Cheol was also pretty much invisible after the first 5 minutes or so
Kim Jin Su – when our fullbacks are not on form our wing play gets pretty bad. What I clearly noticed today was KJS starting to get back to his Hoffenheim form, a very good thing for our offense.
Ki Sung Yong – why is he so good? In the first half he was actually everywhere – appeared out of nowhere to intercept passes, moved forward to direct the attack, made that killer pass to LKH leading to LJH's goal… and the list goes on. Everything went past Ki, and honestly, it's been a very long time since I've seen this kind of class in the KNT (the last time, of course, was PJS). Arguably the MotM could have gone to LKH or KJH but Ki's official MotM was undoubtedly very well deserved.
Lee Keun Ho and Han Kyo Won– a very positive outing from LKH and HKW, who ran VERY hard and covered a LOT of defensive ground, which really helped out our defense.
Lee Jung Hyub – he's not a perfect striker, yet he's at the very least, competent enough for the KNT. He has 2 goals in 4 apps, and if you count that 백호 vs 청용 friendly, it would be 3 goals in 5 apps. It's pretty evident he's an upgrade over Cho 0-chol. We need to start fielding him a lot more often at the expense of 0철.
Is First Place Worth it?
Stielike chose not to rest KSY and PJH, but did manage to rest Son and Cha DR. In the process, KJC and PJH got injured and by the end of the game Ki, KJS, and SHM were gassed. Did we really need to go to such lengths even when we had already secured qualification?
The debate before the match was the following:
Rest the key players, since Australia will likely do the same, and take the sacrifice of being second in the group
Go for first place, as losing would be a severe morale killer
And here's the similarities and differences between getting first place in the group and second place in the group. Note that honestly there wouldn't have that big of a difference, the only difference being an extra day of rest going into the final and the QF opponent, which really was a non-factor.
First place means playing a Uzbek/KSA in the QFs, Iran in the semis, Japan or Australia in the final. We would be going into the final with one extra day of rest.
Second place means playing China, Japan, then Iran. Not a big difference, but going into the final we would have one less day of rest.
I personally think it was absolutely worth it to go for the win. I am absolutely convinced that the mentality of this team has been a major contributing factor to why we've looked so bad. On one day we can look absolutely terrible and make a ton of individual mistakes but another we can look decently organized and for the most part, big mistake free. This match will have been a MASSIVE morale boost after Oman and Kuwait – just listen to Stielike's interview (in Engrish!).
Ki is also extremely enthused right now and has said that this win means a lot for the players going forward – "for pride," he says.
And Stielike pretty much echoes exactly what I have been saying pre-Australia: it's not the result but the mentality and morale improvement.
Final Thoughts: 
It was refreshing to see a win like this, especially with the doom and gloom of the previous two games. I think the main takeaways here are the value of Kwak Tae Hwi, Lee Jeong Hyub, and Han Kyo Won, all three of whom I really liked today. Though Kwak is slow and often times error prone, he has a specific skillset that depending on the opponent, we will sorely need. I predict that Kwak will be called upon vs Iran actually, where we'll need all the aerial advantage we can get, though I guess if Stielike insists on possession and playing a high line we don't want Kwak getting exposed on the counter because he's very bad in that kind of situation. Lee Jeong Hyub should really be our starting striker, and Han Kyo Won, imo, has showed that he's a very capable replacement for LCY.
We all knew Kim Jin Hyeon and Ki Sung Yong were extremely important. Lee Keun Ho was also huge, and showed why he's consistently called up to the team, because he also has his own unique skillsets he can bring to the team, though it's sad finishing is not one of those skillsets. I am slightly worried Son got tired SO early and failed to bury that 1 v 1 he had, but I don;t think scoring was on his mind more than stalling time, perhaps explaining why he held onto the ball for so long.
Though you may call Stielike dumb for keeping PJH on for too long or not resting Ki or PJH, it's pretty impressive how the team has changed from Kuwait to today, and how we can grind out 1-0 wins despite some serious team rotation. The first two games killed my hype but now it's back and I can't wait for the next one.