It seemed unthinkable just a few weeks ago, but Jeonbuk's 2011 bribery scandal finally delivered just desserts as FC Seoul seized the day with their first K League title in 4 years on the final matchday, putting an end to Jeonbuk's three-peat dreams.
Champions of Korea!
We'll probably have a full K League retrospective in the coming weeks (and it's not all over, with promotion playoffs, FA Cup and Asian Champions League still left to enjoy), so let's just talk about this final game. All season long, despite Jeonbuk and Seoul being tipped as the two title favorites, the Green Machine pulled away round after round after round with win after win after win. Seoul simply could not find a way past Jeonbuk under Choi Yongsoo, but eventually it was Hwang Sunhong's tactical acumen, combined with Jeonbuk's waning end-of-season performances, that gave Seoul the victory on the final matchday.
Both teams came into the match level on points, but Jeonbuk had the most goals scored by virtue of strong performances in their previous two matches (5-0 @ Jeonnam, 4-1 v Sangju). Therefore, Seoul needed a victory to steal the title, whereas Jeonbuk could do with just a draw.
Choi Kanghee's side lined up in their traditional 4-1-4-1 with Shin Hyungmin as the holding midfielder this time and Kim Shinwook starting up top. Hwang Sunhong's side once again deployed a 4-3-3 that gives them great control of the match, by virtue of three solid, complimentary central midfielders – Osmar, Joo Sejong and Yojiro Takahagi – and also width up top. The surprise however was Hwang's decision to play little known 21-year-old midfielder Yoon Seungwon ahead of Adriano or Park Chuyoung, presumably to ensure they would be allowed 3 substitutions by adhering to the U-23 rule (which Jeonbuk did not, leaving them at just 2 subs).
Both teams' efforts were restricted to long-distance in the first half. Jeonbuk obviously looked to create problems with Kim Shinwook's height, and it certainly contributed to the right side of Seoul's defense coming off as shaky, but no dice. Then, in the 37th minute, Hwang Sunhong took off surprise starter Yoon and brought on Park Chuyoung. Confirmation that Yoon's K League debut was only used here to bypass the U-23 rule. Tempers rose from here on out, with Kim Bokyung being denied a penalty shout and scuffles after fouls.
Seoul, in part due the substitution of Park Chuyoung, were much more effective at starting counter-attacks in the second half. After a couple unsuccessful counters in the early minutes of the second half, Yun Illok broke free of Lee Jaesung's tackle, out ran a half-hearted effort at a challenge from Kim Bokyung and threaded a perfect ball to Park Chuyoung through the backtracking Jeonbuk defense. The ex-Arsenal striker, though there were hints of offside, took advantage of Cho Sunghwan's bad positioning in the backline and fired this pacey bullet past Kwoun Suntae:
With Seoul now with one-hand on the title, Jeonbuk were on the offensive. But the number of high-quality chances were few and few between, a testament to Seoul's midfield covering ground and closing down opportunities. Lee Jaesung was the easiest remedy making nimble forays into the box, but the finishing touch wasn't there. Kim Hyungil, however, had a chance to score a spectacular winner in the 95th minute with a free header off of a corner kick, but Osmar did just enough to force the Korean centreback's effort wide. Another corner would be punched away by Yoo Hyun, and fulltime came – Seoul with their first league win against Jeonbuk, just that side's second league defeat of the year. Korea was red.
Final thoughts on Jeonbuk
For my quiet dislike of Jeonbuk, it still feels somewhat unfair to this group of players. They were the most formidable side the K League has seen in years, a dominant force and creator of high-quality opportunities through dynamic wingers and creative midfielders. Two defeats – one strange one against Jeju in a new shape with a B side – and the other, when it mattered most – combined with 9 penalty points for a bribery scandal that few left at the club had anything to do with – was their downfall.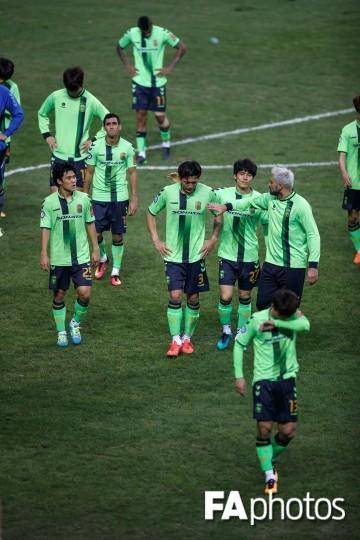 Final thoughts on Seoul
An opportunistic trophy for Seoul? Sure, though you cannot say it wasn't well-deserved. They overcame the traditional managerial transition bump and have found a dominant 4-3-3 formation that works, and could very well be next season's shape to beat with the right players to fit the system. And you couldn't be happier for Park Chuyoung, who didn't have the best of seasons given Adriano and Dejan's dominance, but he and Yun Illok paid back Hwang Sunhong's faith in them by combining for a simple yet super counter-attacking goal that is the envy of any post-2002 Korean national team side. Speaking of Hwang Sunhong, what an incredible manager. 3 trophies at Pohang and a league title on the final matchday – and now another trophy to savor, building off of the great work of former manager Choi Yongsoo. Hwang Sunhong: best Korean manager today? Hell yes.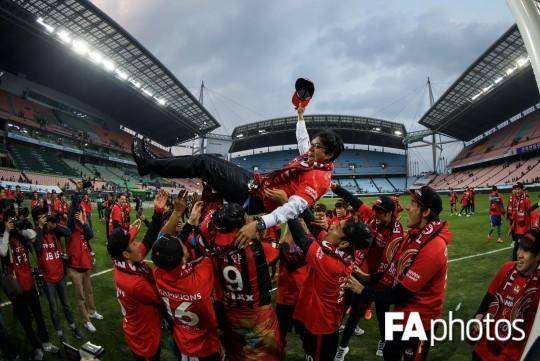 And everything else?


Suwon FC have been relegated from the 2016 K League Classic, and it unfortunately isn't much of a surprise. The side promoted through the playoffs in 2015 seemed to be doing things right with promising foreign players. Unfortunately, they were mostly bust, and a 1-0 loss to a dominant Incheon side secured their fate. They will be replaced by 2016 K League Challenge runners-up Daegu (Ansan, league champions, cannot be promoted).
Incheon's victory, by virtue of a late goal by U23 fullback Kim Yonghwan, means that they avoid the drop for yet another season. They've been K League's Sunderland of late – somehow just finding ways to seem destined to drop all season, and then pulling off miracles to avoid even playing in a relegation playoff. It sent their fans into delirium:
Against all the odds, it's Seongnam, who fell at the Steelyard, who pay the consequences of winning just one game in their last 12 matches.
Meanwhile, nothing else really mattered on the final matchday – Jeju won 3-0 against Sangju, and finished the season on 71 goals scored over 38 games (as did Jeonbuk), the best goals/game ratio since Jeonbuk 2011. They will take their formidable goal-scoring form into next season's Asian Champions League. Gwangju drew the now-safe Suwon Bluewings and "The Patriot" Jung Jogook scored his 20th goal of the season. It's the first 20-goal season in the K League since the 38-game schedule was brought in. Jeonnam also closed a highly-successful season with a 1-1 draw against Ulsan – both sides will be hoping for ACL berths, the former hoping for an FC Seoul FA Cup win combined with a Jeonbuk suspension from 2017 ACL, the latter just hoping for Seoul FA Cup glory.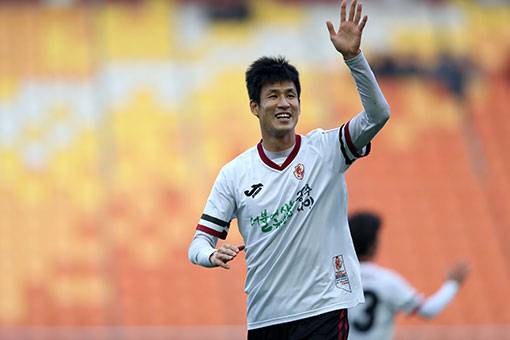 K League Challenge
After Gangwon disposed of Busan I'Park in the first playoff match, Gangwon continued their foray through the playoffs with a last minute 2-1 win at Bucheon. Former FC Seoul player Jung Seungyong opened the scoring for Gangwon in the 17th minute, but Bucheon struck after halftime. Knowing that a scored draw would send Bucheon through, Gangwon took advantage of a one-man advantage they had and scored yet another late winner through Brazilian forward (part of the 2012 Ulsan Hyundai ACL winning side) Maranhao.
This sets up a promotion playoff over two legs between Seongnam FC and Gangwon FC. The first leg will be held in Gangneung on November 17th, and the return leg is at Tancheon Stadium on November 20th. Will Gangwon return to the Classic thanks to Brazilian firepower (somebody buy their scouts a soju). Or will Seongnam ensure a 28th consecutive season in the top division?
Other Notable Dates
November 17th: Gangwon v Seongnam (K League Promotion/Relegation Playoff)
November 19th: Jeonbuk v Al-Ain (AFC Champions League Final)
November 20th: Seongnam v Gangwon (K League Promotion/Relegation Playoff)
November 26th: Al-Ain v Jeonbuk (AFC Champions League Final)
November 27th: Suwon Bluewings v FC Seoul (KFA Cup Final)
December 1st: FC Seoul v Suwon Bluewings (KFA Cup Final)