It was a comprehensive 2-0 victory for Mainz over Freiburg, a remarkable win from this vantage point: it was entirely an all Korean goal scoring affair. Park Joo-Ho AND Koo Ja-Cheol (in only his 2nd appearance since a full transfer from Wolfsburg) both scoring their first goals of the season. I'll let new contributor Tim Lee take over from here:
 Yeah, great weekend, minus the KNT game…Here's a video summary of Koo and Park's goals (watch for their new years' day Korean goal celebration) + Son's (crossbar) strike
| | | | | | | |
| --- | --- | --- | --- | --- | --- | --- |
| Sat | | Ki Sung-Yeung | Sunderland | Newcastle | Full 90 | 3-0 Win |
| Sat | | Hong Jeong-Ho | Augsburg | W Bremen | Bench | 3-1 Win |
| Sat | | Ji Dong-Won | Augsburg | W Bremen | Sub in 69 | 3-1 Win |
| Sat | | Park Joo-Ho | Mainz 05 | Freiburg | Full 90, goal | 2-0 Win |
| Sat | | Koo Ja-Cheol | Mainz 05 | Freiburg | Sub in 58, goal | 2-0 Win |
| Sat | | Son Heung-Min | Leverkusen | Stuttgart | Sub off 75 | 2-1 Win |
| Sat | | Ryu Seung-Woo | Leverkusen | Stuttgart | Not in 18 | 2-1 Win |
| Sat | | Kim Bo-Kyung | Cardiff | Norwich | Not in 18 | 2-1 Win |
| Sat | | Lee Chung-Yong | Bolton | Ipswich | Sub in 80 | 0-1 Loss |
| Sun | | Park Chu-Young | Watford | B&H Albion | Sub in 90, YC | 2-0 Win |
| Sun | | Park Ji-Sung | PSV | Waalwijk | Full 90 | 0-2 Loss |
KI SUNG YUENG
Ki had an interesting game. He made the solid passes needed but some analysts had observed, the first half didn't need much of his services since attacking via the flanks was a lot more effective. He became much more of an important figure in the second half and controlled the midfield in admirable fashion. Another Tyne-Wear derby win for Sunderland and Ki, who never chokes under pressure in derbies (check Old Firm). Sunderland moves up to 14th in the table…amazing considering they were at the bottom of the table during the festive season.
On a slightly different note, a couple of angry Newcastle fans invaded the pitch and one of them threw their season ticket at Alan Pardew. That's how much this derby means to them…
SON HEUNG MIN
A decent game for Son Heung Min, with several good chances – the notable ones being a 34th minute one-on-one crossbar shot and a 40th minute shot on the keeper.
34th minute, Son in alone on the right flank, rattled the crossbar. Pity he didn't score as he would have deserved it. Subbed off in the 75th minute, to my surprise to be honest, and oddly enough, Son's replacement Eren Derdiyok wins the game for Leverkusen.
RYU SEUNG WOO
Not in 18.
KIM BO KYUNG
Not in 18. Cardiff made a couple signings midweek but that doesn't justify him not getting a spot on the bench. Solksjaer selecting Daehli, his favorite, instead.
LEE CHUNG YONG
Chungy got subbed on in the 80th, but did nothing notable in a 1-0 loss for Bolton.
JI DONG WON
Ji came on in the 69th minute in a decent performance from him from the little time he had to impress. Lots of touches but he never got a real chance, mainly due to the fact he was fouled a lot.
HONG JEONG HO
Got to watch his Homie Ji from the bench.
PARK JOO HO
A solid game from him, including his DEBUT GOAL for Mainz! A solid strike from midfield took a deflection and found its way into the back of the net to put Mainz ahead 1-0. That combined with a poor game from Kim Jin Su today could raise speculation that he could take his spot in Brazil? Or maybe Ki's partner in DM? PJH is playing a sort of hybrid role between defender and DM. A player to watch for sure… he has great vision but can really mess up sometimes… anyhow, savour this unexpected goal!
But wait… there's more!
KOO JA CHEOL
Unlike PJH, Koo was a sub. He came on in the 58th minute and looked threatening and had some great touches. But Mainz was officially Korean-ified when Koo put in his first goal of the season with a great run and a solid CONFIDENT strike. Classic Koo!
And so the Taegukki flag was flying high here at Tavern Studio Canada, despite a poor KNT loss vs. the US (and on a completely unrelated note, my local ice hockey team lost their derby against their rivals, so my afternoon was kind of moot compared to the morning's excitement).
Came Sunday our two veterans in PJY and PJS saw the pitch!
PARK JU YOUNG
So, post transfer announcement excitement, Park Ju Young made his first appearance in quite a bit, coming on at the 90th minute, yes, only the 90th minute, for his new club Watford FC. At least he got on the pitch? Thanks to Roy's Jedi powers (see the Tavern twitter exchange -it seemed to have worked to some extent-finally!) – our former NT captain, wearing the number 20, trotted on for injury time. He plays three minutes. THREE MINUTES! For the first time in a LONG TIME. As you guessed it, this game was played without any radio nor TV coverage. <sobs>. Not even a photo of him in his Watford kit. I mean, not to complain or something, but, I mean, aren't we entitled to a photo at least? Right?
Tavern Owner update: Tim, your wish has been granted – Rachael Hur snapped some photos of Park in Watford uniform which appeared on her twitter site.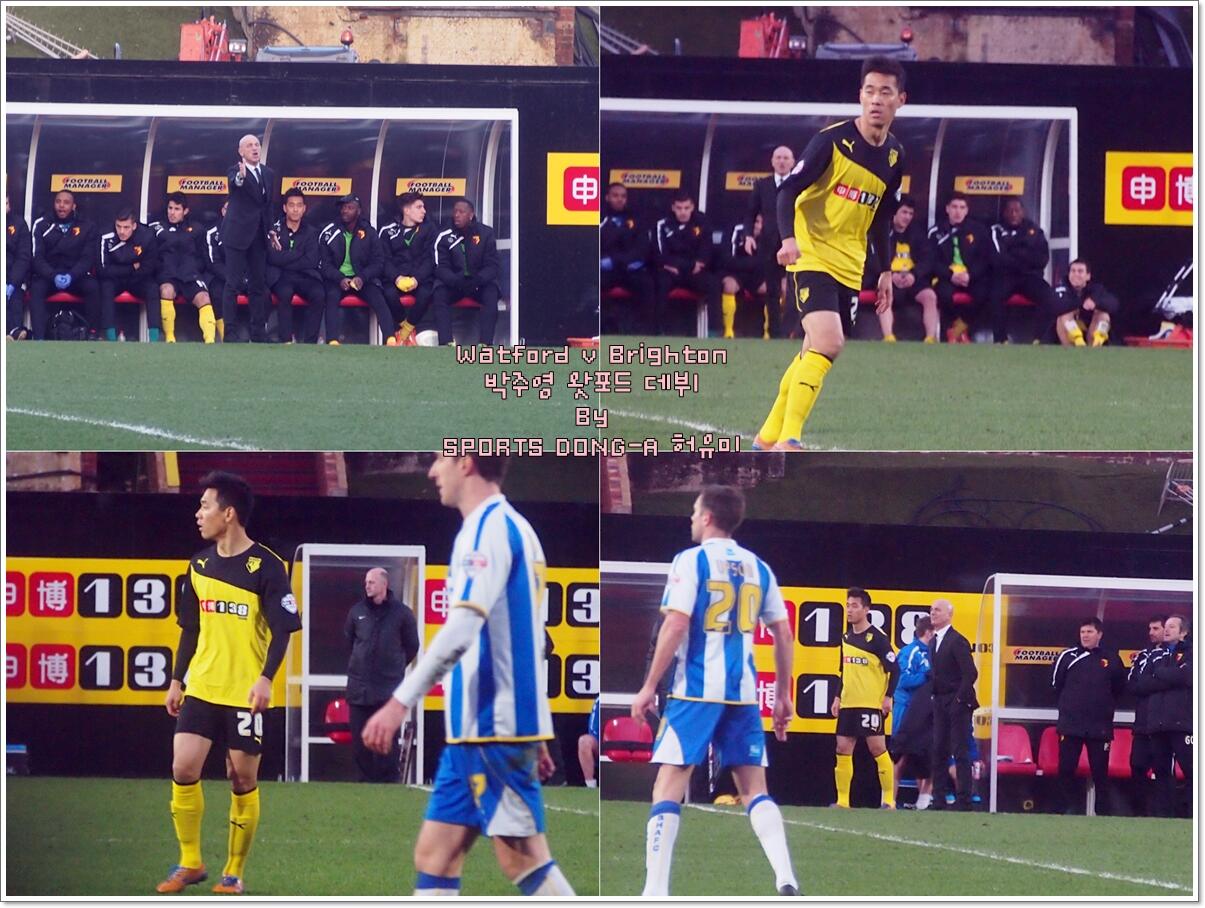 There were reports from Watford observers who noted Park was particularly fast. Good sign of some extracurricular fitness training.
[Note: I think Watford have him down as Park CHU young, so whatever fits your fancy I suppose.]
PARK JI SUNG
Played full 90 and didn't have a shot. 2-0 loss as reported above.
Here's another video of Koo and Park trying to figure out the (what was that -the 'humba humba teetollars' post match celebration in the stands, complete with goofy football dancing.
—
Alright, great weekend again! Always a bright spot with the KJC PJH Mainz first goals. Haven't heard anything about Kiu though…
Talk to you later – wanted to get this early with the throwball game later tonight which I will end up watching despite my footy gut's complaints – and saehaebok mani badeseyo!
Tim Lee – Tavern Contributor