Earlier this morning (or last night if you're in Europe or Korea), Korea lost 1-2 to Uruguay. Overall I feel good about this game. Just as it was in our WC match, it was a winnable game where we had the lion's share of opportunities and even had two goals ruled out after lengthy VAR checks. On a different day the result would have gone our way.
Disclaimer: neither I nor Jae was able to watch the Colombia match and cannot comment on it outside of what we saw on extended highlights and what we've heard from other fans.
Our lineup featured Hwang UJ up top, SHM behind him in the "free role" that was covered so extensively in the Korean media and was surprisingly effective, with Lee Kangin (!!) on the right and Lee Jaesung on the left. Then of course we had Hwang Inbeom, Jung Wooyoung senior, Kim Taehwan, Kim Youngkwon, Kim Minjae, and Lee Kije who took Kim JS's place after his injury. Jo Hyeonwoo surprisingly started in goal – but perhaps not as Klinsmann doesn't prioritize the distribution skills Bento did, and Koepke has spoken to Korean media saying he admires JHW, especially after his heroics vs Germany in 2018.
The first half got off to a very rocky start and the first 10-15 minutes was all Uruguay. They pressed the living daylights out of us and often had us pinned in our own defensive half. Valverde got off 3 shots in <15 minutes which is never a comforting sign and his corner in the 10th minute sealed the 1-0 lead for Uruguay. It was kind of sad how literally no one marked Coates – he was the only one who jumped for that ball. Jung Wooyoung, who was right next to Coates and between him and the goal, just stood and watched. None of our players were even in the air. Was there a miscommunication? Either way it clearly shows how terrible we are at defending set pieces – Uruguay's second goal was also from a set piece situation.
 After that goal though the momentum was mostly on our side. Son Heungmin and Lee Kangin were SHARP. Most of the offensive output was through one of those two who completed several successful dribbles and created chances throughout the whole game. It's really refreshing to see Son back in form because he did very little against Uruguay just 4 months ago. For the most part the remainder of the team played their part well, save for Hwang Uijo who was mostly invisible and Jung Wooyoung senior, who as we have come to know is very vulnerable to pressing. Uruguay forced several mistakes from him, though fortunately none had disastrous consequences. Many of us have been saying that Son Junho is an upgrade to JWY and hopefully Klinsmann saw that things stabilized this game when SJH came on early on for JWY's injury. But despite numerous close attempts the first half would end 1-0 in Uruguay's favor. 
The second half was mostly Korea dominated as well and we got the well-deserved equalizer early in the second half through a great cutback from Lee Kije to tee up Hwang Inbeom. Though soon afterward, Kim Minjae's foul at the edge of the penalty box would lead to a free kick from Valverde that Jo Hyeonwoo spilled into the path of Vecino – again completely unmarked. But aside from the free kick that led to the goal, Uruguay never really threatened us in the second half either. Their wide forwards didn't do much the entire match. If I was the manager of Uruguay I would feel happy about the result but disappointed in the performance – they couldn't muster any meaningful chances outside of those two set pieces. Lee Ki Je in particular did a very good job against Pellestrini. Kim Tae Hwan wasn't terrible either but one could argue he should have tracked Vecino better for the second goal. 
There was some controversy this game though – Korea put the goal in the back of the net twice only to be disallowed. First it was Kim Young Kwon who was called offsides (it obviously wasn't), but after a >5 minute uncharacteristically long VAR check, was judged to have obstructed the GK with his arm. Soft call in my opinion which is probably why the VAR deliberation took so long.
Korea continued to press on and looked to have found an equalizer through Oh Hyeongyu – a real beautiful goal that came out of nowhere. Unfortunately, this one got disallowed too for offsides. There was a long (but not >5 minutes long) VAR on this one too, and there are some camera angles that came out after the game that call doubt into whether OHG was offsides at all. It's a real shame it got flagged though because 1) the defender was in front of him by the time he got the ball anyway 2) he was a HAIR offsides and 3) that was a real beautiful goal. Klinsmann gave high praise to OHG after the match and surely this cements his status as the obvious starting CF for us, especially given how out of form Cho GS and HUJ are for us right now.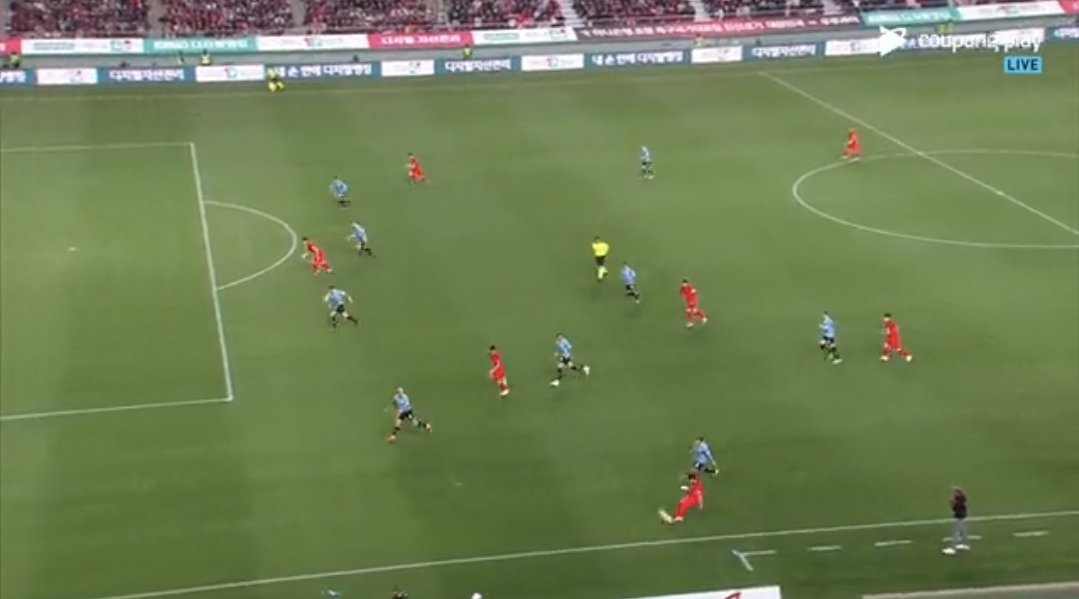 The last 10 minutes + stoppage time? All Korea desperately trying to find the equalizer similar to what we saw in the WC. Cho GS was even subbed on late in place of LKI. Sadly one wasn't to be found.
Some talking points:
Klinsmann. Obviously playing well vs Uruguay at home doesn't mean that we should hop on the Klinsmann bandwagon and raise expectations just yet. We'll see how he responds to changes and different opponents because most of what we saw this weekend was probably just a continuation of Bento's work. However, it's certain that Klinsmann has avoided a disastrous start to his tenure, and if we weren't all cautious about Klinsmann given his track record, we would be singing his praises. Klinsmann seems to be more open than Bento who had a rigid philosophy, calling up Lee Kije (always wondered why Bento didn't do that), playing SHM differently, starting Lee Kangin, etc. Important disclaimer though that Korea always performs better at home, and the real tests come when we play in a different country.
The ref. In the beginning, he wouldn't call any fouls at all. Then he would start calling them more liberally. He was a little bit inconsistent at times. And most of all… who deliberates for that long on a VAR check in a friendly match? Just give us one, both were dubious anyway…
Son Heungmin. This whole "free role" thing that got Korean media talking after Korea-Colombia seems to be working, but whether that's because he's just on form or whether Klinsmann finally unlocked how to get the most of SHM – something Bento struggled to do until the end of his tenure (and even then that was undone by his terrible form and injury) – remains to be seen. Now with Conte gone I hope he can start banging in goals for Tottenham, but my expectations are low because Ben Davies is injured and Perisic is likely gonna start … and we all know by now that SHM cannot thrive when Perisic is playing.
Kim Minjae's post match interview. This one may necessitate its own post. Basically he said that he is mentally very broken from traveling so much and playing so many games and expressed that he would like to take a break from international duty. He never once said he would retire which is what the media is saying – oversensationalizing as usual. I don't think he's wrong at all to say what he said. We at the Tavern have been saying for a long time that calling up our European based players against AFC minnows during the European league season is not a good idea. IMO KMJ is voicing that opinion. KMJ is one of the more vocal characters in the squad, unafraid to speak his mind, and honestly I applaud him for this. It would be great if Klinsmann mostly used K League / ME/other AFC based players for the upcoming qualification games. We lack depth and finding a plan B is important.
Hwang Inbeom and Lee Jaesung are class. HIB is too good for Greece. Surely there are teams scouting him right now.
Our defenders were laser focused in the World Cup but seem to have checked out a bit since then.
I am not bothered that Klinsmann only used two subs. We were playing really well and had Uruguay pinned down with 2 disallowed goals. The right thing to do was to keep the team and hope they put it in the back of the net properly.
Fede Valverde is scary. The rest of the team wasn't so impressive. How they would fare with Darwin Nunez, Cavani, Godin, and Araujo? I'm mad that they won in the end with this A- team (I was secretly hoping for revenge for Valverde's antics) but alas. I think we outclassed them overall but it's the result that matters so…
Set pieces. My god we are terrible at defending set pieces. Hopefully Klinsmann takes note and will focus on this specifically in the training ground.
Funny enough, the AFC vs CONMEBOL series today was heavily skewed towards CONMEBOL with the same scoreline repeating over and over again. Korea 1-2 Uruguay, Japan 1-2 Colombia, Australia 1-2 Ecuador, Saudi 1-2 Bolivia. Uzbekistan drew Venezuela 1-1 though.
What do we do when Hwang Heechan comes back? We know he consistently outperforms for country. But we have Oh Hyeongyu, Son, Hwang, Lee Kangin, Lee Jaesung, and Hwang Inbeom as our main, in form MF/FW talents and we can't play all 6 of them (we need at least one defensive midfielder). Who do you take out? It's a bit of a dilemma and will likely depend on the quality of opposition we're facing.
Overall, it seems Colombia and Uruguay were overall successful with good showings from Korea, but Klinsmann's true test is yet to come with the Asian Cup on the horizon.