Post in progress, adding more later on, but in case you're still at work/school, Korea shakes off a bit of rust and generated enough offensive firepower against China to take all 3 points in Group A for 2018 World Cup qualifications, now in the 3rd decisive round. Top 2 from Group A and B go on to represent Asia in the World Cup (3rd place have more battling to do). However, as the title indicates, Korea's defenses were poor and China will rue missed chances to equalize. Decisions will be made on how to adjust for the Syria WCQ match next week. After the jump, we got a short recap and video highlights from today's action -and a shocking result from Group B – your jaws will drop, + more including non-footy stuff like the film Train to Busan that's getting attention in the US thanks to the movie's subversive critique of Korean society, stay with us…
First half China was scrambling to keep up but from onset, clearly had deficits that couldn't match the organization and skillsets from the Red Devils. Chances created, and typically, not converted by Korea's potent offense.  That is until the 23rd minute when Son Heung-Min's lovely freekick found Ji Dong-Won, the Augsburg midfielder shot deflected off Zheng Zhi and past the hapless keeper,
Korea 1:0 China
China started getting back into the game after Korea couldn't convert their numerous other chances. Korea's started a poor run of form including an absolute horrific misspass into centerspace by Jang Hyun-Su. Rule #1 that youth are taught, on the flank, pass up the line. He disregarded that silver rule and in passing the ball centrally, gifted a terrific opportunity to a Chinese forward -fortunately hie couldn't line up his shot on target.
Second half started brightly for the Chinese, bolstered by 10K+ fans behind Korea's goal, launched brazen attacks into Korean territory. Things settled and Korea re-asserted themselves in the midfield. That allowed for some time to probe China's weakness in their backline. Ji Dong-Won found that weakness in China's RB and drove the ball audaciously past his marker toward the goal line before crossing with deadly accuracy onto the head of Lee Chung-Yong lurking on the far post. Boom, Blue Dragon goal in the 63rd minute.
Korea 2 : 0 China
Less than 2 minutes later, it was Son's turn to exploit the Chinese RB, clever bit of skills and he was clear of his mark, crossed to Ji on the near post. In split second reflex Ji redirects the ball with a backheel flick, bypassing the keeper – Koo sensing an opportunity slid the ball and poked it into the near post which bounced on in (gloriously) into the net.
Korea 3:0 China
However in the 74th minute, Korea seemed to take the foot off the gaspedal and a rare poor heading clearance by Oh Jae-Suk fell right to China's Yu Hai, he knocked it into the upper rights.
Korea 3:1 China
No sweat, Uli is thinking, China gets a consolation goal, but instead, Korea's inability to rack up the goals despite open play and further chances created gave China another opportunity to counter. With a freekick opportunity, Hao Jun-min curled the ball over Koo Ja-Choel's head and Jung Sung-Ryong, who should've been able to read that better, was clearly beaten on the left post.
Korea 3:2 China
Uli and Korea supporters were sweating the last 12 minutes and a dangerous CK opportunity allowed a menacing shot on target, but Jung redeemed himself partially with a timely hand-tip save. Despite Hwang Hee-Chang subbing in (and an odd substitution with Jung Woo-Young in for Son) Korea couldn't get more insurance goals. However the whistle indicated FT- all 3 points go to Korea, but it shouldn't have been this close,  Korea will need to be more ruthless against opponents like China.  There is also the sense that, despite positive metrics like better ball possession and tactical positioning, Korea is needing to look over their shoulder in the next couple of encounters as China's authoritarian government mandated football improvement campaign seems to be showing glimpses of what their potential can be in international competition.
Players that stood out immediately for me (the old Tavern Owner)?  Ji, Son and Koo looked in sync and worked well together for their goals, it certainly justified their call up: Now that may not sound like resounding plaudits, but I'll have to admit I didn't get to see live enough of the match (distracted with kids to get ready for school) to rate players with too much conviction.  For that I'll have to see the ESPN3.com replay here in the US to be more conclusive.  Others in the glimpses : Han Kook-Young seemed to be far better than the last time he represented the KNT. Hong Jeong-Ho, despite my scolding re; Korean defenses put in some timely last minute tackles to prevent further goals conceded. Oh Jae-Suk with a few decent crosses in. Jang seemed particular poor defensively, though he didn't have too much trouble advancing the ball forward on the right. Ki Sung-Yeung wasn't on form today. Not necessarily bad, but not necessarily great either. He lost the ball more often than usual for the Swansea man, sometimes in dangerous positions. Normally a holding midfielder, he's shown signs in the past that he could be effective as a more forward attacking player -should or could he be the player in the hole? If so, who would Uli trust as a holding mid who keeps things ticking?
One more thing to consider: we would've liked to have seen what Kimbo could've done against the likes of China. As much as I don't mind seeing KPAs represent Korea, China had more time to prepare as most of their players are domestic and CSL based. The potential for better chemistry because of that is/was a factor in keeping the game a bit close for comfort for team Korea. For this fixture, which Korea was rightly favorites to win, why not take a risk, allow for KPAs to stay in place and integrate with their club counterparts instead of traveling 7 time zones, and utilize players like Kimbo who plys the trade for Jeonbuk?  The former Cardiff City midfielder has proven himself for country and current club. Park Chu-Young or perhaps a really creative option like the young Hwang In-Beom from Daejeon Citizens might've given China problems as well. Easier said than done as I'm admittedly arm-chair managing –especially when results in this WCQ round matter, but Me thinks Stielike is a bit more stodgy when it comes to call ups. Calling up KPAs can be effective but with 7 time zones to travel for home matches, it might be more advantageous to trigger those call ups more strategically. I could be wrong about all that, but there it is – I've said it and possibly opened up a mini-pandoras box, May buddha help us all.
Here's a short youtube highlights reel provided by the AFC. There may be other more comprehensive highlights for the match, but this will suffice for now.
3 points is 3 points, On the minus column from the match, this:
KFA fell well short of its goal of attracting 60k+ to Korea v China WCQ match tonight. A sign of the changing times. pic.twitter.com/OlXMUJ14uq

— Steve Han (@RealSteveScores) September 1, 2016
48 Shades of Footy's twitter handle (they do a podcast on Korean footy) said official attendance was 51,238. Sangam (Seoul) World Cup stadium capacity is 66,704.  A sign of changing times is correct as usually Korea, especially for a National team match can either sell out or get to over 60K. Keep in mind when looking at the 51K attendance tonight, roughly 10K was comprised of Chinese supporters who flew in to go to the match. Come on Korea, YOU CAN DO BETTER THAN THAT.  What, is it yagu?  You'd rather eat fried chicken, drink, be distracted and do anything but watch a tedious baseball match on field?  I'm afraid to say that I think you really don't deserve the kind of quality KNT team that you have at the moment. Get it together my overly-wired and distracted Korean brothers and sisters in the peninsula.
And now, this: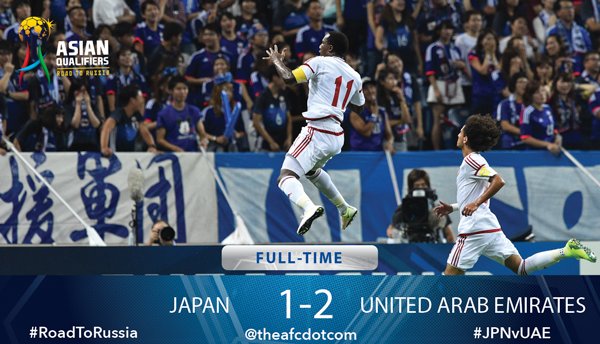 UAE upsets the Blue Samurais, takes all 3 points, Japan now sweating a bit to qualify for the WC. UPDATE: just saw replays, Japan unlucky as the linesman didn't see that late game goal line UAE clearance actually showed the ball crossing the line -it should've been a Japan goal. Holy smokes!
—And for attendance comparisons between Seoul World Cup stadium and this Japan home match, it was at Saitama stadium, home to the Urawa Reds. Capacity: 63,700.  I don't know official attendance but from the video highlights, it looked pretty full to me. Shame on you Korea….Shame.
Massive shift in Group B from one match. Huge result for UAE #WorldCup2018 pic.twitter.com/o8vPB6k9jk

— We Global Football (@We_Global) September 1, 2016
And some extra time: here's Lee Young-Pyo during HT giving his take and prediction (he said it would be 2-1 for Korea).
We chatted with @theKFA legend @fromtheline at HT to get his view on #KORvCHN and final score prediction. #WCQ2018 pic.twitter.com/UgKADuTneu

— The-AFC.com (@theafcdotcom) September 1, 2016
Update: AFC just put this tweet/video from Korea's captain Ki
Lessons learned for @theKFA skipper Ki Sung-yueng after 3-2 opening win against @CFA. #WCQ2018 #RoadToRussia pic.twitter.com/6y5VzNhL16

— The-AFC.com (@theafcdotcom) September 1, 2016
For the Syria match: Son goes back to Spurs while Stielike has called up, wait for it, Hwang Ui-Jo.  OMG.  Why Uli, why?  If Son played as a right attacking mid, why not replace like for like with Kim Bo-Kyung?  Mysteries abound.
Extra Extra Time: You may have heard about the Korean produced zombie flick Train to Busan, which I'm dying to see. Then I heard this from NPR radio this morning
A hit zombie film in South Korea is also a searing critique of Korean society. https://t.co/Dg2C7UUw9p pic.twitter.com/nqT4pcdWHx

— NPR (@NPR) September 1, 2016
Most definitely worth a listen…