Extra Time over: 2-0 Korea over Uzbekistan – a grueling quarterfinal clash featuring nail biting end to end action, finally concludes with Team Korea digging deep to overcome fatigue to score 2 extra time goals, courtesy of Son Heung-Min. The Bayer Leverkusen man found a good time to stop his tournament scoring drought as Korea now advances to face the winner of tomorrow's Iran v Iraq quarterfinal.  
There are several incredible moments frozen in time: the image of Son's face as jubilance at seeing the ball go in the net turned to anguish and pain as he collapsed in the 119th minute…
Before we go further, it's 5:50 am here at the physical Tavern so this is going to be a flittering reel of observations / thoughts / tweet recollections and points to take away from this quarterfinal. Here we go:
Pre match:
Uzbekistan's coach Mirjalol Qosimov made a bold prediction – that he and his side will beat Korea. Uli doesn't bite. Instead Son Heung-min gets out in front and sends a special message to Taeguk Warrior supporters via youtube in which he asks people not to be overly be critical and nitpicky (hello? netizens?).
Despite winning Group A, Korea's lineup had been battered by some key injuries: both Lee Chung-yong and Koo Ja-Cheol out was a big blow to the teams hopes of going deep into the tourney.  With Iran possibly looming in the semis, should Stielike rest players like captain Ki? Would Kim Ju-Young recover in time to be paired with either Kwak or Kim Young-Gwon as the CB pair in the back?  Cha back at right back?  The starting lineup please:
#AC2015 Quarterfinals South Korea v Uzbekistan Starting XI #KORvUZB pic.twitter.com/Iz9eJCMOgC

— Korea Football News (@KORFootballNews) January 22, 2015
Similar to the last starting XI vs Australia, no Cha, but Nam Tae-hee in the middle. Ok, carry on.  
6′ Turaev almost gets on the end of a Ahmedov cross from the wings. #KORvUZB #AC2015 pic.twitter.com/VCD05NCxKk — AFC Asian Cup (@afcasiancup) January 22, 2015
6′ Lutfulla Turaev's header is juuuuuust short and it goes out of bounds. Uzbekistan not wilting against the Koreans! #KORvUZB #AC2015

— FootballChannel Asia (@fcdotasia) January 22, 2015
That early scare gives an idea of how Korea was operating from the onset, under pressure from Uzbekistan. But they couldn't sustain the pace and Korea managed to settle things.  As the game muddled on, it seemed for every time Korea would build an attack that would fail, Uzbekistan was ready to pounce on the counter, looking more or less dangerous each time. It's at this point in the match that things got a bit crazy.
17′ Kim Jin-hyeon spots the danger from Tursunov and blocks well. #KORvUZB #AC2015 pic.twitter.com/4wcDEM2XR3

— AFC Asian Cup (@afcasiancup) January 22, 2015
18′ Kim Jin-su makes a nifty move past the White Wolves, but @UzbekistanFF_en were able to clear. #AC2015 #KORvUZB — ONE World Sports (@ONEWorldSports) January 22, 2015
19′ Lee Keun-ho on the counter attack has a chance for Korea Republic. All action now! #KORvUZB #AC2015

— AFC Asian Cup (@afcasiancup) January 22, 2015
25′ BIG double save from Nesterov. Nam Tae-hee looked through on goal there! #KORvUZB #AC2015 pic.twitter.com/ajG83jUS7q — AFC Asian Cup (@afcasiancup) January 22, 2015
KJH made himself huge, cut off angle for Uzbek shot. CK defending giving me heart attacks, nearly comceding — Roy Ghim (@taeguk_warrior) January 22, 2015
26′ Nesterov again! This time denies Son Heung-min with a deft palm. #KORvUZB #AC2015 pic.twitter.com/3xFZuGIaTd — AFC Asian Cup (@afcasiancup) January 22, 2015
27′ The captain Ki Sung-yueng now has a shot at Nesterov but it's high. Exciting period for @theKFA! #KORvUZB #AC2015 — AFC Asian Cup (@afcasiancup) January 22, 2015
End to end stuff. Both 'keepers making big saves. Korea coming back into it. & Son heung-min starting to get into a groove — John Duerden (@JohnnyDuerden) January 22, 2015
We'll exit the twittersphere for a moment – a number of great chances for either side, with the goalkeepers the reason things were still nil-nil – it was thrilling AND incredibly frustrating to witness simultaneously. We reach HT, scoreless. Son, who was a bit anonymous at the start, towards the end of the half was as Duerden put it, starting to get into a groove (listening to some old school Madge are we?) Meanwhile Lee Jung-Hyub, on getting serviced by Son, was nearly one on one with the keeper, but his shot was incredibly wide of the target.  This might've been the reason Ki started coming up further to shoot.   2nd half, Korea had the better of the two sides with utterly dead on chances to go ahead.  
So close for Korea https://t.co/0mYN2hrmpw — Tim Lee (@korfan12) January 22, 2015
Wait, I'll be back – got to get the kids up in a few minutes for school. Stay tuned…
and I'm back…
How did that not go in????!!!! Ki's FK and LJH on target header saved, then KJH gets adventurous, nearly costly mistake

— Roy Ghim (@taeguk_warrior) January 22, 2015
51′ Down the other end and Kim Jin-hyeon clears into his defender and almost an own goal. Great action early! #KORvUZB #AC2015 — AFC Asian Cup (@afcasiancup) January 22, 2015
68′ Kim JS's cross is untouched in the box! A huge waste for the Koreans. #KORvUZB #AC2015

— FootballChannel Asia (@fcdotasia) January 22, 2015
In the 65th minute, Korea with a near setpiece defending catastrophe averted when Nasimov connects but misses at the back post. 12 minutes later, again problems:
LKH loses his mark, but Uzbeks can't finish with dangerous header far post — Roy Ghim (@taeguk_warrior) January 22, 2015
78′ Rashidov with a delightful back post ball but Turaev can't bury the free header. What a chance! #KORvUZB #AC2015 pic.twitter.com/gW95utPxwv

— AFC Asian Cup (@afcasiancup) January 22, 2015
Lee Keun Ho gets the ball inside the box, one on one with the keeper but misses everything. #AC2015 #KORvUZB — Asian Football Feast (@AsianFballFeast) January 22, 2015
Nam Tae-hee will probably rather forget this:
83′ Nam Tae-hee misses a cross for @theKFA. Korea Republic getting some chances late. #KORvUZB #AC2015 pic.twitter.com/pvAHOEvnMC

— AFC Asian Cup (@afcasiancup) January 22, 2015
Ki to Nam in the area!!!! Swing and a…nam scrubs his shot as it goes past him!!!! — Roy Ghim (@taeguk_warrior) January 22, 2015
83′ WHERE ART THOU NAM TAE HEE? The midfielder misses a wide-open cross… #KORvUZB #AC2015

— FootballChannel Asia (@fcdotasia) January 22, 2015
Nam TH actually missed the ball. LYP can't believe it. "I have no words to explain what happened there…" #KORvUZB — Tim Lee (@korfan12) January 22, 2015
Extra time. Crap.

— Jae (@ArmchairRegista) January 22, 2015
  It's now the first deadlocked game after 90 minutes in the tourney, and the first goal-less game as well. But it is here, in the agony of extra time that Korea reached deep within and found their inner Taeguk Warrior, summoned just for the occasion.  We go to just before the extra time break, Hoffenheim man Kim Jin-Su pries the ball away from an Uzbek player deep in their half, then quickly crosses to Son: Magic. But there was still 15 minutes to go. Tenseness in the Korea camp as Uzbekistan pressed for an equalizer.  Each time Korea cleared it, Uli Stielike kept waving his hands, signaling his players to not park the bus but to press onward.  The tired squad considered doing so. Finally in the 119th minute, Cha Du-Ri went ahead and launched a counter, drove heroically down the right flank, exposing the defense who were busy in Korea's half.  Cha kept going. Then old man Cha shifted into another gear, outran the first defender, nutmegged a 2nd before finding Son approaching the edge of the box. Defenders who were supposed to mark him, instead rushed to cover an onrushing Cha.  The son of legend Cha Bum-Kun brilliantly laid it off for 'Sonaldo'. A few tense miliseconds for him to settle the ball and BOOM – he blasted the shot center high, past the keeper and on into the net. Magic x2. Game over. Check out Cha's run and Son's goal:
"@SBSNOW: 우승하러 왔다고~ #아시안컵 #손흥민 의 두번째 골로 우즈베키스탄을 2:0으로 꺾고 4강에 진출했습니다!! #차두리 의 패스도 GOOD GOOD!!! – http://t.co/o9cYzySZGy" — SBSSPORTS (@SBSSPORTSNOW) January 22, 2015
To that moment I wrote earlier about frozen in time, you can see from the replay Son's joy upon realizing that it's going in -turning to pain and agony as he collapses in slow motion.  He was stretchered off, but came limping back in before the game was over. Here's what happened before the final whistle:
Cha ends the game with bicycle kick clearance

— Roy Ghim (@taeguk_warrior) January 22, 2015
  Here's what we can take away from this match:
Positivs:
Free kicks / corner kicks: no, Korea didn't score from set pieces, but this is very much in the postiv development column today. Son, Ki and Kim Jin-Su all were able to send some pernicious balls into Uzbek's area – a number of these could've have been gone in if it weren't that Korea faced yet another outstanding keeper.
Son rises to the occasion: He was highly touted before the tournament, but has had some mixed performances, perhaps hampered by the flu. While Kim Jin-Su and Cha Du-Ri needs to take a bow for their brilliant work to create both goals, Son was there to finish.  Makes people, including Jae to wonder whether he needs to be converted as Korea's choice for center forward.  And with all the chances created, the margin could have been higher. Still, it goes on record as Korea's first multi goal game thus far in the Asia Cup.
Ki Sung-Yeung:  solid as captain. Flawless passing, metronomic precision, keeps the ball and Korea moving along.
Fullbacks: Kim Jin-Su was in beast mode. Absolutely critical to Korea today, set up the first goal with his feisty steal and cross. While Kim Chang Soo had a quieter game, the introduction to his substitute Cha Du-Ri literally was a game changer. Korea started to have more options down the right; he kept up a good solid D while fit enough to bomb it down the line -which he did to help put the game away in extra time. Said it before, saying it again: the old man still has it. That and it's his 2nd crucial assist in the tourney – the first was against Kuwait when he crossed to Nam Tae-Hee – his header was the lone goal and eventual game winner.
Negativs:
Quality in the final third: Breaking things down from the forward question, Lee Keun-ho and Lee Jung-Hyub, while they combined for the goal against Australia, this time were blanking out, both flubbing their shots on goal. Nam Tae-hee, filling in for an injured Koo Ja-Cheol today when he had a wide open net, couldn't connect on Ki's cross to score late in the 83rd minute.
Game goes to extra time: as a result of squandering their chances to score in regulation time, all the players, were gassed at the end. Both Son & Ki had cramping symptoms during extra time. Great to win, sure, but as a consequence of going into OT, they will have Iran (probably) breathing down their neck in the semis. Should Iran and Iraq not go into extra time, Korea may find themselves struggling to keep up.
This might sound familiar: despite a clean sheet, Korea could count themselves lucky they didn't concede today. Heart Attack inducing set piece defending? Check. Unmarked players on the far post? Check. Were it not for their lack of clinical finishing, the scoreline and the outcome may have been vastly different.  Uli and Team Korea and the entirety of their defense has to wonder how much longer can their luck last?
  Just got a tweet, video highlight reel from the AFC:
HIGHLIGHTS | Son Heung-min was the hero as @theKFA overcame a tough @UzbekistanFF_en 2-0: http://t.co/Vspen3gIOu #AC2015 #KORvUZB

— AFC Asian Cup (@afcasiancup) January 22, 2015
Here are your final game stats, courtesy of the AFC (first stat sheet is after 90 minutes, followed by extra time)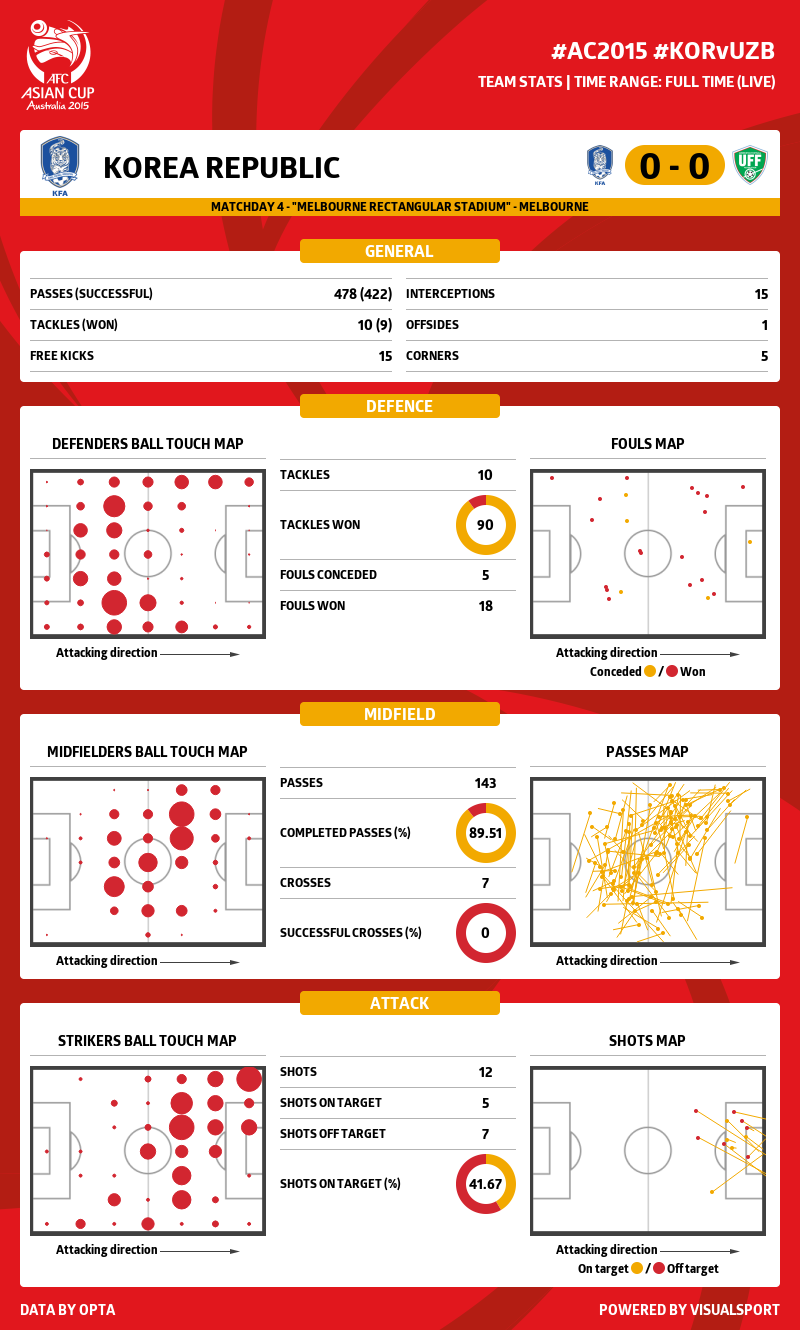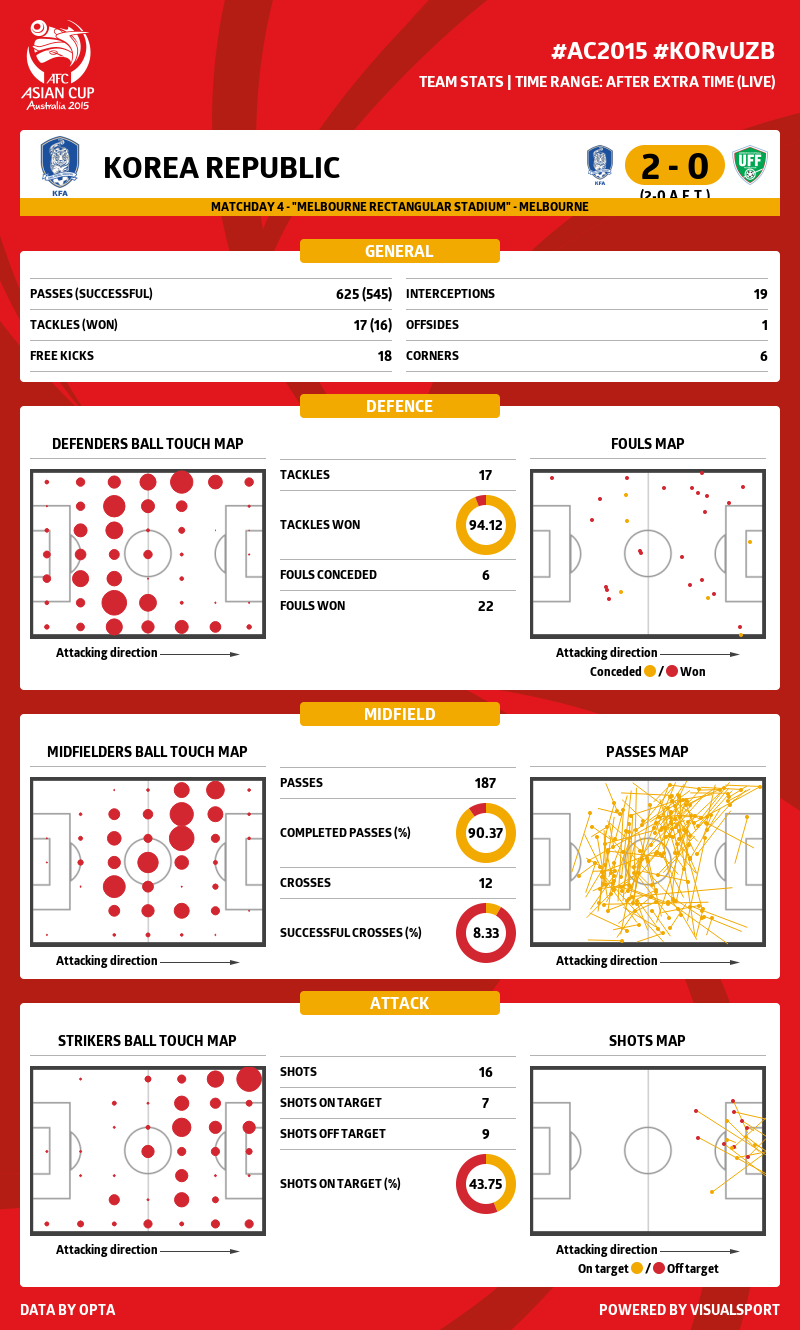 Kwak Tae-Hwi was somehow named Man of the Match today by tournament officials. By what committee?  Not to denigrate Kwak, he didn't have a terrible game per se, but really? Moving on…
About to close up the Tavern…but wait, it's morning time…guess we'll open the Tavern again. What are your thoughts on the game?  How should Uli try to organize the lineup in preparation for the semifinal – which by the way will be…
Korea v (winner of Iran v Iraq) Monday January 26 at 4am US EST /  6pm Korea Time (lucky bastards).