There were a couple things to talk about and not much time to talk about them, so this post is one of our Tavern Kickarounds – we'll discuss rumours that Pochettino may deploy Son Heungmin as a one-top striker in today's UEFA Champions League action against CSKA Moscow, and discuss takeaways from round 32 of K League action – we're on the eve of next round's Super Sunday, after which the K League will split into the Top Half and Bottom Half for the season's 5 remaining games.
but first, if you haven't checked out Jinseok's updated weekend recap, do so  here! More praise for Son, revelations about his transfer saga, as well getting you up to speed on the other KPA's in action last weekend — we had two assists!
The K League About To Split
For the last 3 seasons (if I remember correctly) the K League, under its 12 team format, splits after 33/38 games into two divisions – the Top Half and the Bottom Half. Points from the first 33 games obviously carry over into the final 5, but no team in the Top Half can finish lower than 6th and no team in the Bottom Half can finish higher than 7th. The reason? To make the competition to avoid relegation or qualify for the UCL more thrilling – and consequently to combat match-fixing, as the waning season still takes on added importance and rivalry across the map. Though, to be honest, starting with punishing Jeonbuk Hyundai for their scandal would be an even better idea…
Firstly, the results of Round 32:
Incheon United 2-2 Suwon Bluewings
Jeonbuk Hyundai 1-0 Seongnam FC
Pohang Steelers 1-0 Gwangju FC
Suwon City 0-0 Jeonnam Dragons
Sangju Sangmu 1-5 Jeju United
FC Seoul and Ulsan had already played their scheduled match for this round earlier in the season.
Leaving the league table looking like this:
Takeaway 1: It's a bit nuts mid-table
In leagues where there are 1-2 dominant teams and 1-2 weak teams, all the teams in the middle generally are involved in a season-long cat fight for literally every position on the table. That is true this season, where Jeonnam, Seongnam, Gwangju and Sangju all have a realistic shot at taking two of the final spots in the top half. In fact, the latter three even all have the same amount of points.
Takeaway 2: So who's gonna make it? What are the permutations?
Jeonnam have been boosted by strong last-season form and good performances from Jair, 2017 U-20 WC lock Han Chanhee, Heo Youngjoon, etc. The recent army discharge, which is the direct reason for Sangju's struggles of late (2 points in their last 5 matches), theoretically should also benefit Jeonnam the most, with league top assistor Park Gidong and breakout midfielder Park Juntae all joining the Dragons' ranks. Although Jeju will be a difficult opponent to overcome, they have a two-point margin over their competitors for a spot in the top six and even a loss here may still see them survive.
Seongnam is my other pick – since disciplinarian manager Kim Hakbum resigned, Seongnam has looked better but many of the depth issues are finally beginning to show their true, depressing colours, with one win in their last six. Goalscoring has also been an issue, with just 4 goals in their last 6 games. However, their final opponent before the split – Pohang – saw their manager leave the club on Saturday when for them a top half finish is now extremely unlikely. In other words, Seongnam have far more to play far and should be up for it.
Sangju have been spiraling downwards and a 5-1 reverse to Jeju this weekend doesn't bide well – they would need to pull off a massive upset against Jeonbuk to try to make the top half. Gwangju are also going to FC Seoul, and league top scorer Jung Jogook's injury tips the odds in that game heavily in Seoul's favor. At the same time, both of those opponents have ACL midweek, which could mean reserves will be out there on Sunday.
Takeaway 3: Kim Dongjun's on fire
Much as Kwoun Suntae deserves his KNT call-up, you got to look at his age – 32 years old. Seongnam's U23 goalkeeper Kim Dongjun started against Jeonbuk this weekend and made a total of 11 saves, some of them simply sensational. At a time when one of your regular three goalkeepers are injured, should Stielike have selected a younger option to give him experience? In any case, at the beginning of this season, Kim Dongjun was uncertain to be a starter at Seongnam. Now, he's solidly the number #1, and that is a great achievement.
Takeaway 4: What do the others have to play for?
Jeonbuk: They've sealed the title. Now all about ACL ACL ACL.
Seoul: Solidly second. Now all about ACL ACL ACL. KFA Cup is decent consolation prize, but ACL obviously top priority.
Ulsan: Holding on to third and the final guaranteed ACL spot. Also, KFA Cup.
Jeju: Top six finish for the third consecutive year. Now all about challenging for ACL. (Top 3 finish is automatic ACL, if the KFA Cup winner is among the top 3, then 4th place gets a berth as well).
Jeonnam: Stay above the split… see point 2.
Seongnam: See Jeonnam and point 2.
Gwangju: Make it above the split… see point 2.
Sangju: Make it above the split…? see point 2.
Pohang: Avoid disaster and relegation.
Bluewings: Best scenario – win KFA Cup and rebuild for 2017 ACL. Worst scenario – get sucked into a relegation catfight.
Incheon: Get out of relegation playoff zone.
Suwon FC: Get out of automatic relegation.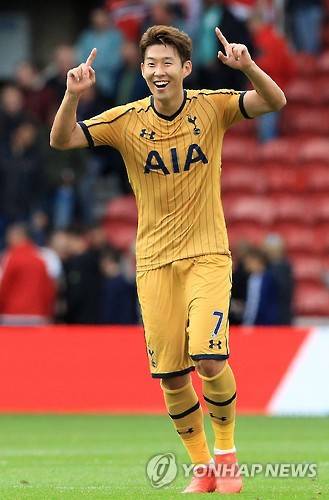 Son Up Top?
Midweek Listing for Tuesday EST/Wednesday morning KST: Tottenham travels to Russia to take on CSKA Moscow — 2:45PM EST, 3:45AM KST. The injury-plagued Spurs will be without Harry Kane, Moussa Dembele, Eric Dier and Danny Rose – but not to fear, as Son Heungmin is here. The South Korean's stats are just a feast for the eyes – take-ons, dribbles galore. WhoScored has him as the most in-form Europe-based player this season. But Middlesborough and Stoke is one thing – the UCL, the real deal, is another. Son will be asked to play just as influential and big a role in this game, and to justify his recent performances, he'll need to deliver "bigly" (don't mind me, just quoting a Presidential candidate who shall not be named…).
Korean media, seemingly forgetting the very existence of Vincent Janssen, is now circulating a story that Pochettino is considering starting Son up-top as the center forward. Although the manager never explicitly said he will start Son up top, the Spurs boss was quoted as saying "Son Heungmin is showing exceptional play this season, and it makes me happy. As such, it is possible he can play up top against CSKA Moscow."  Meanwhile, English football commentator Jamie Redknapp has said that "Son Heungmin would be a better option than Janssen".
Although I'm suspecting this is just a kind of smoke screen to maybe force CSKA Moscow to at the very least contemplate what a Son Heungmin one-top would look like as opposed to Janssen, I'm not sure it is necessarily a good thing for Son to play up top. His strengths, statistically, have not been when playing with his back to goal but as we've seen in recent weeks but rather when he's allowed to use his pace and dribbling ability from the wings. Jae discussed this kind of dilemma two years ago. Nonetheless, it is an interesting narrative that we'll have to observe.
Spurs, after losing to Monaco at Wembley in their first game, will need to bounce back with a win in this game – and Son Heungmin will have a very vital role indeed in compensating for fallen teammates and making the most of his blistering form.
RIP Lee Gwangjong
故 이광종 감독님의 명복을 빕니다
(1964.04.01-2016.09.26)
대한민국 축구를 위해 애썼던 故 이광종 감독님, 영원히 기억하겠습니다. pic.twitter.com/eTo36e3IRp

— 대한축구협회(KFA) (@theKFA) September 26, 2016
The manager who led South Korea's Asian Games team to victory undefeated in 2014, Lee Gwangjong, has died. He had been battling leukemia after being diagnosed early last year. Lee's sides were famously defensive, grinding out victories without conceding any goals – an Asian Games first. His success put defenders such as Jang Hyunsoo and Im Changwoo on the map, as well as leading the entire team to military exemption.
Subsequently, Lee was handed the job he had been working towards since taking the reigns of the U-17 team in 2007 – the Olympic managerial position. However, his diagnosis after the King's Cup in Thailand last year meant that he had to resign the post, leading to the appointment of Shin Taeyong.
Lee had an impressive player career, with 9 seasons' experience in the K League with the Yukong Kokkiri (now Jeju United) and Suwon Samsung. He became U-15 manager in 2003, U-20 manager in 2004, and then took a break from management. He returned in 2007 as the U-17 boss, then in 2010 as the U-20 boss – leading two generations of Korean players to the knockout stages of the FIFA U-20 World Cup. He then took on the U23 post and that famous Asian Games victory over North Korea in the final will remain his greatest career achievement.
Lee was 52.
The Tavern's thoughts are with his family at this time. He will be missed.
The Tavern is remembering Asian Games-winning manager Lee Gwangjong. He passed away last night after a battle with leukimia. He was 52. #RIP pic.twitter.com/EybkMbBOiL

— Taeguk Warriors (@taeguk_warrior) September 26, 2016