After a year defined by postponed matches, the Korean Men's National Team is back in action. Two upcoming friendlies between Paulo Bento's senior national team and Kim Hakbum's U23 side will put the spotlight on domestic league talent. The sides are preparing for AFC World Cup qualifiers (currently postponed until 2021) and the postponed Tokyo Olympics, respectively.
Coach Bento is no stranger to games behind closed doors as nearly a year ago to the day the South Korean Men's National Team visited Pyongyang for a 0-0 draw. One month later, the team flew into Lebanon at a time when antigovernmental protests had the match in jeopardy; it also ended up behind closed doors. Both upcoming games will be held in an empty Goyang Stadium.
The COVID19 quarantine period is Bento's latest challenge as the KFA decided to exclude Korean nationals playing overseas. The likes of Son Heungmin and Kim Minjae are shoo-ins for upcoming World Cup qualification matches but will only get to watch on TV from home. Football fans will be excited to see which new roster additions can find a way to carve out a spot for themselves in future call-ups.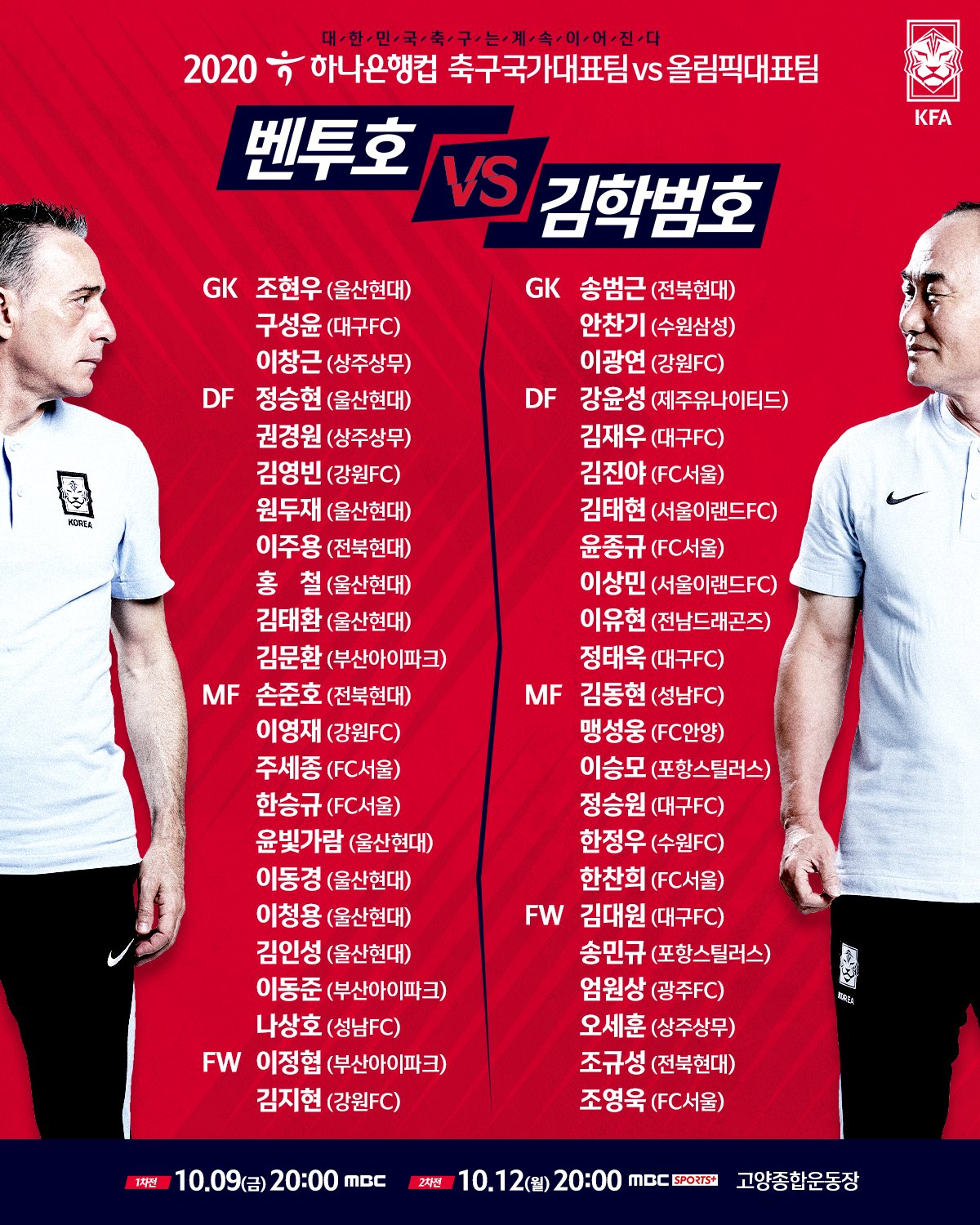 Who steps up on the senior squad?
In addition to big names, leadership also seems to be lacking in the current line-up. Lee Chungyong, clearly the most experienced, withdrew from the team due to an injury. Lee would have been perfect to captain as his current team, Ulsan Hyundai, had nine player selections. Veteran Kim Bokyung, who helped Bento win the EAFF E-1 Championships last December, was not called on so the team needs a willing player to accept the role as skipper.
The absence of international players also leaves a monumental problem up top for the Taegeuk Warriors. Of the 22 players, only Na Sang-Ho has found the net while playing under Bento, netting twice last year in the EAFF E-1 tournament.
At the top, Lee Jeonghyeop has more caps than the only other forward, Kim Jihyeon, but injuries have allowed the striker to play in two of the last five matches for Busan IPark. Jihyeon is coming into the line-up hot, leading his team in goals (7) with two coming in the month of September.
Watch out for Han Seunggyu to make a big splash in his first call up. Currently running the midfield at FC Seoul, he could be the mix of pace and play Korea need in replacing Son Heungmin. Son Junho joins his former teammate in the midfield after being featured in two of Bento's last three squad selections. In addition to Na Sangho, the senior team's attack will live or die by their midfield performance.
What is missing for Bento?
On top of the big named player vacancy, the holes in the back line could be a problem for the senior squad. The recently transferred Kim Jinsu opens another gap in defense. His replacement at Jeonbuk Hyundai, Lee Ju-Yong, and Ulsan Hyundai's Hong Chul will be fighting for a start at left back.
Kwon Kyongwon will certainly be the new core of the defense. Military duty has the centerback on home soil, but he will be looking for a replacement beside him as Kim Minjae is unavailable for selection. It will be interesting to see what options Bento tries out as Kwon's partner, whether it's Jung Seunghyun, Kim Youngbin, or even Ulsan's Won Dujae (usually deployed as a CDM in the K League).
Who are the difference makers on the youth side?
Paulo Bento will have a busy day keeping an eye on both squads. Kim Hakbum has brought up six forwards in the U23 squad, a position that Korea desperately needs a superstar to emerge from. Look for a rotation between players and expect results from some young stars.
While Song Minkyu and Oh Sehun sit atop their teams for goals by domestic forwards, Song might have just locked his spot with his game deciding header over Jeonbuk in Round 24. Rotation will be likely though as no U23 player scored more than two goals in the AFC U23 Championship earlier this year. Expect the youthful side to experiment with different line-ups to find a forward to lead them into the Tokyo Olympics.
How to Watch
Matchday 1: Oct. 9, 8 PM KST/7AM EST, Goyang Stadium
TV/Streaming: MBC/NaverTV (http://onair.imbc.com/)
Matchday 2: Oct. 12, 8PM KST/7AM EST
TV/Streaming: MBS Sports+/NaverTV (https://www.mbcplus.com/)
We will be livetweeting both matches via our Twitter account (@taegeuktavern) and will share out the best streams we can find on the day of the matches. Should be an interesting set of friendlies where we learn a lot about the K League talent both at the U23 and senior levels.