The Olympics are perhaps one of the most demanding, excruciating and grueling tournaments in the world of football. When it comes to prominence and fame, the World Cup obviously takes front seat. But the Olympics are an animal of their own, with players forced to play several games in a short period of time. After the failure in Brazil in 2014, Shin Taeyong and the KFA brought out their secret weapon – Brazilian fitness coach legend – Luis Flavio. Insight on Flavio's role with quotes from Seoul E-Land assistant head coach Dan Harris after the jump.
The 2002 World Cup: Eye-opening
The 2002 World Cup was not only a historic time for Korean football on the surface – a 4th place finish on home soil, including the team's first ever victory, as well as defeats of great European opposition such as Portugal, Italy and Spain – it was also a revolutionary time for the behind the scenes. Guus Hiddink was not just asked to build a team, but to build a program. The legendary manager was the first foreign boss of the Korean national team, and brought in the so-called "Power Program."
Korean football freelancer Seo Hojeong sums this up nicely: "The so-called 'Power Program' revealed the true benefits of fitness training by placing an emphasis on it. The team prepared for the conditions of a hot, humid June summer in Korea and this gave them a big advantage over other teams."
Since the success of the 2002 World Cup, football in Korea hasn't been the same, as clubs and the KFA were awakened to the benefits of acclimatization and conditioning.
The Olympics: a punishing schedule 
The Olympics are a different animal on its own, notwithstanding the climate of the host country. If you look at Korea's schedule – if we assume by some miracle that the team makes it all the way to the final (of course, let's take it one day at a time, the team could be eliminated in a few hours for all we know) – Korea has played Fiji on the 4th, Germany on the 7th, will play Mexico on the 10th, could play Quarter-Final on the 13th, a Semi-Final on the 17th and their final game on 20th. That's an average rest time of 2 whole days before each game day – shakes out to less than 72 hour turnover.
If you compare this to the World Cup, the Korean team played games on the 17th, 22nd and 26th – an average turnover of between 120-140 hours – almost double the rest time between matches.
What's even more exceptionally troubling with the Olympics is that somebody thought it would be a good idea to only permit 18-man rosters, as opposed to the 23-man rosters we see in international call-ups and pretty much any other continental match or tournament of professional football that exists on the planet. This obviously means less players can be rotated in or out and injuries are exceptionally concerning.
So… the Rio Olympics are a double-whammy?
If you combine the Brazilian winter heat and humidity with the jam-packed schedule with a small roster, the Rio Olympics are indeed a double-whammy. It is a massive test of the ability of the coaching staff to properly work with their players and keep them fit. If you look at the 2012 London Games, Hong Myungbo brought along that trusty Japanese fitness boss Ikeda Seigo to the Olympics, and the latter was heralded by many in footballing circles as having done an incredible job. The team coped with injuries to Jung Sungryong and Kim Changsoo, playing all three matches in the group stage without assured qualification, plowing through 120 minutes of play against hosts Great Britain and winning on penalties before giving Brazil a real run for their money
4 days later. The bronze medal that ensued in that famous Haniljeon was to the credit of the coaching staff's brilliant success on a fitness front.
However, even the best can falter, and Seigo struggled with the 2014 World Cup squad in Brazil. Determined not to repeat the mistakes of Hong and his team, the next manager of the Korean national team Shin Taeyong, who already had one fitness boss among his staff working with the team throughout qualification, brought on Luis Flavio to the medal campaign.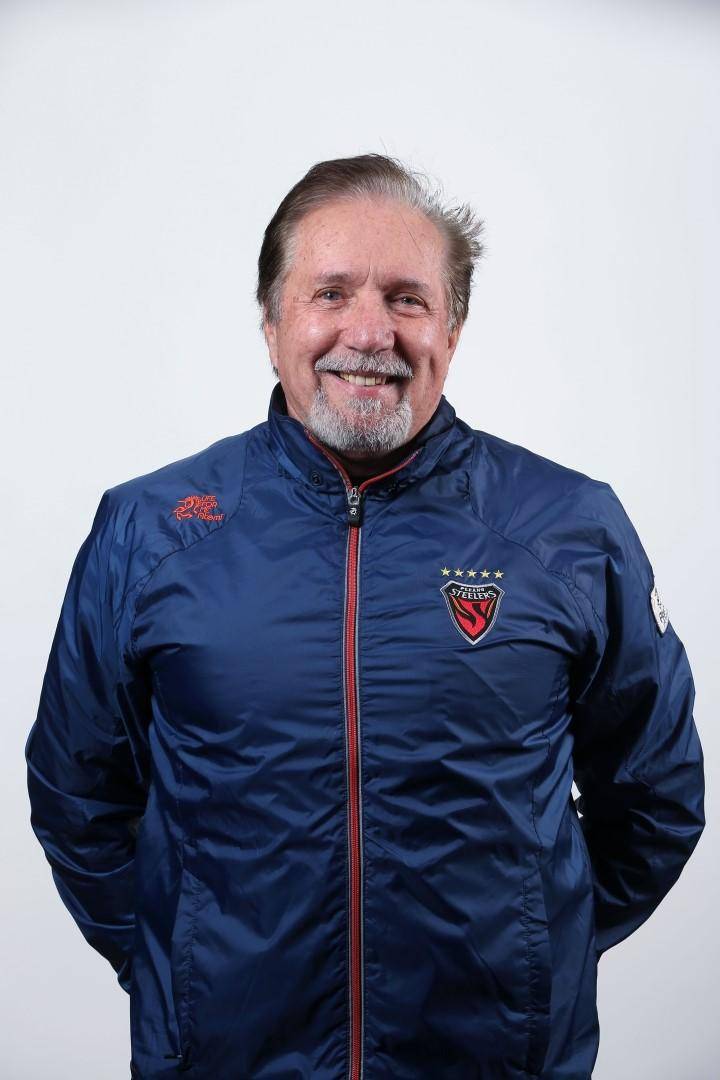 Who's Luis Flavio?!
Flavio is one of the most renowned fitness coaches in Brazil, with great knowledge and experience of the country and its regions – making him a perfect fit for a Korean coaching staff who wouldn't have that real-life knowledge that the Brazilian does.
Seo Hojeong reports that the evolution of sports science began in Brazil, ten years before it touched down across the Atlantic Ocean in Europe. Flavio, since the early 70s, has been working with some of the most prestigious clubs in the country – Vasco da Gama, Santos (where Neymar happened), São Paulo. He's looked over some of Brazil's greatest names – Bebeto, Romario, even Brazilian Ronaldo.
In the mid 90's, Kawasaki Verdy (now Tokyo Verdy) convinced Flavio to further his career in Japan, where he eventually was elevated to the fitness coach position for the Japanese national team at the 1998 France World Cup. Seo reports that: "Flavio was reputed as having brought insightful expertise and knowledge, and made a major contribution to Japan's fitness training program in subsequent years."
He hopped over the East Sea in 2004 to begin his connection with Korean football which lasted nearly a decade. First as fitness coach at the Jeonnam Dragons, and then a key coaching staff member to the great Pohang Steelers sides under Hwang Sunhong. "He was the best person to allow me to implement the football style I wanted to see," said Hwang glowingly about his former colleague.
Flavio, somewhere in his 60s, also has great medical expertise and is credited with increasing the recovery rate of injured players at Pohang. Hwang only worked with Korean players and kept a comparatively thin squad at his disposal, but his know-how in this domain allowed the team to hoist three trophies in 2011 and 2012.
Luis Flavio essentially went into retirement after his contract ended last year with Pohang, operating instead his own training center in Sao Paulo and working with the next generation of fitness coaches. But he was easily coerced out of this for one month by the KFA, saying "I love Korea very much, and it gives me great joy to help them. I will mobilize all of my capacities and do my very best."
What can fitness coaches and the coaching staff do?
But what CAN Flavio, and the regular Korean fitness coach Shin Sang-gyu, really do to prepare players and keep them ready to go during the tournament? For this, we transition to the second part of this post – the Tavern turned to Dan Harris for answers and insight. Harris has 16 years of coaching & sports science experience in the Premier League, Championship and across Europe, and now is assistant head coach for 'physical performance' at K League Challenge club Seoul E-Land.
On players who may not have been playing regularly with their clubs prior to the Games: "One of the biggest challenges in high-level football is maintaining the balance between being 'fit' and 'fresh'. Players need to be both in order to perform at a high level.
A 'fit' player who has just played 50 games a season is unlikely to be 'fresh' and so the focus for him needs to be finding a training load that enables him to recover and regenerate sufficiently, ready to peak again for international competition.
The mistake that a lot of coaches make is that they see a player who perhaps hasn't played as frequently and therefore suddenly increases his training load in a short period of team in order to try and "boost" his fitness. In reality, this kind of sudden 'shock-loading' puts a player at risk of increased injury and of decreased freshness."
Harris goes on to mention that when he was working with England international youth teams, he would work closely with clubs having call-ups not starting matches regularly by giving them an "additional training program 4 weeks prior to them joining us (the team). This helped us maximize the Fit v Fresh balance whilst avoiding 'shock-loading'."
On challenges facing the coaching staff – particularly given the tight fixture congestion
"International scheduling certainly does put a demand on players that need to be managed carefully. The biggest challenge facing all the coaching staff is actually about getting to know how each player responds individually to a training & match load. 4 different players can all train the same way in the week leading up to a game and then play 90 minutes – the reality is that all 4 of them will actually respond very differently to the load. Good coaches recognize this and adjust accordingly based on the data available."
On avoiding burn-out and fatigue – relevant now more than ever in a big game on two whole day's rest against Mexico with hopes of military exemption evaporating with a loss 
"Putting in place recovery protocols that are resilient and effective is crucial. Whether it be ice baths, nutritional interventions, sleep promotion techniques*, active recovery, foam rolling, ice jackets, cryotherapy, massage, yoga, pool work, etc. – the options are numerous and not every player responds the same way to each tool.
Good coaches also take into account the psychological load associated with tournament football. The best coaches I have worked with understand the value of creating "breathing space windows" where players can be freed up with the emotional and physical load of needing to perform for their country. For the Korean Olympic team, the pressure is huge – desire to win military service exemption, pressure from Korean hierarchy culture to perform as a "senior", etc.)
Additional work with the small groups of lads (who aren't first team players) should also probably be a daily part of the conditioning coach's workload."
*The team actually rescheduled their flight to Brasilia for the Mexico match so as to not have to wake up at 5am.
Final notes from Dan Harris of Seoul E-Land 
"In summary, the more effective teams in the world with regard to conditioning generally now understand the need to have an integrated approach to training and preparation. The days of just having a "fitness coach" who does warm-ups and a bit of stretching should probably have gone by now.
Modern day football has changed hugely – Prozone data from around the world over the last 10 years has shown an almost 40% increase in the number of sprints that players are performing — 80% in the Premier League in England! The game has become more explosive and coaches need to recognize this and adapt accordingly… if I'm honest, one of the challenge in Korean football is the need to adapt our thinking a little bit from a "one size fits all approach" where everyone does the same thing every day irrespective of age, position, load, injury history, etc. We've got to do better in order to keep being a successful nation and league."
Final thoughts
With the Korean national team playing do-or-die games from here on out, and this, with a short turnover between matches, a small squad to work with, difficult opponents to beat – the challenge is already great. After two games, it's been so far, so good for the Korean Olympic Team, but it will interesting to see as the climate changes in Brasilia if fitness & conditioning coach duo Shin Sang-gyu and Luis Flavio have been successful in giving this team its best shot at victory, the knockout stages, and dare I say it – maybe, just maybe – another spot on the podium.
After all, as Dan Harris says, "they've got some really good expertise behind them."