After a 3-2 victory against China in Seoul, Korea's World Cup Qualifying campaign continues as the attention now shifts to Malaysia, the venue of South Korea's second qualifying match of the final round, where they will take on the lowest ranked team, Syria.
Context
Korea were cruising after 60 minutes in Seoul thanks to a Chinese own goal, dominant on the wings, revealing vulnerabilities in China's backline, scoring through Lee Chungyong and Koo Jacheol. It was all good and rosy for Stielike's men. However, minor individual defensive errors added up all at once and Korea conceded two against China. Despite hanging on for a 3-2 victory, Stielike came under a lot of criticism (which we'll explore at a later date) for how he managed the encounter. A much more assured victory against Syria will go a long way to appease the flocks of perpetually nervous Korean fans.
Syria, if compared like-for-like with Korea, have a whole host of more pressuring problems. Their professional league is in disarray, with games only being played in one venue because of the Civil War and War against ISIS. They cannot play any games at home, due to security concerns from the AFC's point of view. In the grand scheme of things, however, Syria's mere presence in the final round of World Cup Qualification in several decades. A 1-0 loss to Uzbekistan was nonetheless not the initial result they would have hoped for.
Tale of the Tape
[tb]
, Korea, Syria
FIFA Ranking, 48th, 105th
Second Round Record, 8-0-0, 6-0-2
Second Round Result, Winner Group G, Runners-up Group E
Second Round Goals, For: 27 + Against 0, For: 26 + Against 11
[/tb]
Overall Record: 3-2-1
Last meeting: 2010 (Friendly), Korea Republic 1-0 Syria (Ji Dongwon goal)
Wasn't this game supposed to be played in Lebanon?
Well, it was, but there were apparently security issues in Lebanon that forced a change to Macau. However, because of some weird conflict between the Syrian and Macau football federations that led to one demanding an apology from the other with the AFC not sure what to do it seemed that the game could be cancelled altogether. If you thought geopolitics were complicated, how about football geopolitics… Instead, the fixture will be played in Malaysia!
A must win for more than one reason?
Very pointed words of caution were said by Technical Director Lee Yongsoo about this game. "This is a must win, at all costs. If we draw or lose, our qualification could be enormously complicated." This is because the Syrian FA, currently operating out of a temporary office in Doha, Qatar, apparently lack the funds to cover costs for the remaining World Cup Qualifying matches. If they can't find the cash, they will be forced to forfeit all of their remaining games 3-0 in favor of the opposition. Understandably, you can see how if Korea drop points here, they incur upon themselves a penalty that no other team will have to bear in their World Cup Qualifying group.
So who are Syria?
Syria are possibly the most unlikely qualifiers among the final 12 teams in Asian qualifying. However, they were drawn in a very favorable group, with only powerhouses Japan looking difficult. Notwithstanding 3-0 and 5-0 reverses to them, the Syrians completed a qualifying phase that they can be very proud of – comfortably dismissing Afghanistan, Singapore and Cambodia, along with friendly wins against Iraq, Jordan and Oman.
But, go figure, successful manager Fajr Ibrahim was sacked in May of this year – almost a custom in Middle Eastern international football, to sift through managers, successful or not. After a brief pursuit of Jose Mourinho that ultimately went nowhere, they settled on a little-known local manager to head the team. Fixtures under their new manager have seen the Syrians be largely unsuccessful, with losses to Thailand and Vietnam, but a win against the U.A.E. gives them optimism.
In the first game of World Cup Qualifying, the Syrians played a fairly open encounter with Uzbekistan, but ultimately could not find the back of the net, with the Uzbeks taking a 1-0 home victory.
However, for the Syrians, it's more about just football. Former manager Ibrahim sums it up best as reported by Australian site news.com.au:
"In Syria, football is our first sport. We miss all that. We are sure that sooner than later, the situation will improve and we can play there. Before the war, our league matches used to have packed stadiums. There used to be crowds of 35,000 to 50,000. We want to go back to those days.

The situation gives us motivation to do more and give more. We have to show to the world that we Syrians are good people. We Syrians can fall sick, but we cannot die. And we fight through football. It's an unusual situation. The war has not just affected sport, but all life in Syria. But we have shown that we can adapt to the situations and fight."
What to expect from Syria?
You have to expect that the Syrians will sit back and defend, the usual Middle Eastern model for dealing with South Korea. Against Japan and Uzbekistan, however, the Syrians were happy to play with a simple 4-back. They had possession of 47% and manager Stielike warns that the game will be more "engaged" and that Syria will be more "aggressive" than China.
Star strikers out of it: while Korea sent Son Heungmin home after the China encounter so that he could get a couple extra days with Spurs in the hopes of starting a game, the Syrians' top goalscorer in qualifying and one of the Middle East's rising stars, Omar Khribin of the UAE League, will not be in the match squad against Korea after sustaining an injury against Uzbekistan in their first game of the final stage of World Cup Qualifying.
Same wing-based approach?
One thing to watch in this game is if Korea will stick to playing on the wings like they did against China. The Chinese wanted to limit Korea from side to side, placing a block of three central midfielders and the Koreans were more than content to oblige.
With the Syrians apparently more of an aggressive side, if the defense holds up, they could be a possibility for the Koreans to exploit the centre of the pitch and play in between the channels.
On the flipside, Korean football commentators are pointing out the weakness of Syria's wide areas and their lack of height in centreback, suggesting that Stielike should stick to a similar approach as against China.
Personally, I'd like to advocate for mixture of both. Syria are even more technically deficient than China, and there are likely to be mismatches all over the pitch. Furthermore, most of the goals that Japan scores against the Syrians was on the counter and dribbling plays – not crosses or longballs. Even in the heat and humidity of Malaysia, the Koreans shouldn't be fearful to attack with more gusto than against China in what should be one of their easier World Cup Qualifying games.
Who starts up top?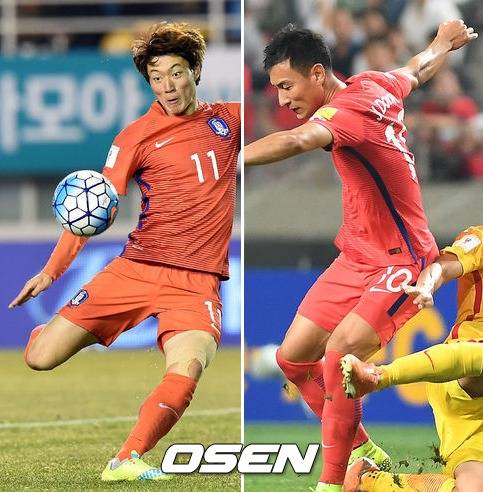 Stielike in his press conference seemed to put the emphasis on attack and movement. Despite his praising of Ji Dongwon in future interviews, it's illogical to me to bring Hwang Heechan to World Cup Qualifying and take him away from his club without even bothering to give him a start.
However, the Salzburg player's starting ambitions could be delayed, as Seongnam forward Hwang Uijo was called up from the reserve list to replace Son Heungmin. Does this mean that Stielike is looking to play Uijo up top, and Heechan on the wing? Or is he simply calling up another striker as a back-up option?
Fixing defensive woes
Syria's most potent threat seems to be the speed and tempo of their attack, even if it does not always result in a chance on goal. It's crucial that the defensive pairing cut out the unforced individual errors. The two centrebacks who haven't participated in this batch of matches are Kim Younggwon and Kim Minhyeok. If remains to be seen if this will indeed be the starting centre-back pairing. So as long as they avoid making silly mistakes and hold up on set pieces, an upset should be off the cards.
Possible Starting Lineup?
I am fairly uncertain about the composition of the two wide players and striker. I'm trying to understand why Stielike would call up Hwang Uijo, while still giving Hwang Heechan and Lee Jaesung starts. Also, it's probably foolish to think that Stielike could not start Jang Hyunsoo, who seems to be favored highly by the coaching staff despite some decidedly average performances in the Olympics (I maintain that Jung Seunghyun was a far better player) and a shocker of a match against China.
Score Prediction
After conceding 2 late goals against China, a solid win on the road (well, at a neutral venue) would be very welcome indeed. If this team plays to its full potential and does not let the heat and humidity of Malaysia affect them, a team like Syria, beaten 3-0 and 5-0 by the Japanese, should not test the Koreans in any respects. A solid 4-0 win would be pleasing in this World Cup Qualifying tie.
The Skinny
Syria vs Korea Republic — Third Round of 2018 World Cup Qualifying (AFC)
Tuanku Abdul Rahman Stadium, Seremban, Malaysia
September 6th, 2016 — 8am EST, 9pm KST
TV: JTBC / JTBC 3 (Korea)
Online: AFC Youtube (international except AFC) + ESPN3.com (US)
World Cup Qualifying Group A
We'll have the Korea vs Syria — World Cup Qualifying — streaming link on our Twitter one hour prior to kick-off. Daehanminguk Fighting!