Uli Stielike's first game in charge of the KNT was a successful. A 2-0 win against Paraguay nearly understates the performance of the KNT, as it could have easily been 3, 4, 5-0. The chemistry, the link-up play, the tactics, were all present and very impressive in an overall solid game for the Taeguk Warriors. However, Stielike will make wholesale changes in the XI for this match, where Seoul welcomes the 2014 World Cup's favorite underdogs – Costa Rica.
The XI
Stielike stunned us all with a f*cking weird XI last time around. Not weird in the position/tactics kind of way, but that no one really expected, not even the media, for Stielike to field a XI of fringe players. This time around, he is expected to field a quite different team, as I look for redemption in my XI prediction.
The overall consensus is that Kim Seung-Gyu will start in goal, after Cerezo Osaka keeper Kim Jin-Hyeon started the last game, and did do a pretty fine job indeed. This match could help us evaluate both goalies as we try to find out who our number 1 will be for the Asian Cup and World Cup Qualification.
The fullbacks this time around will likely be Cha Du-Ri and Park Joo-Ho, in lieu of Lee Yong and Hong Chul last game, and the centrebacks will probably see Kim Young-Gwon and Kim Ju-Young. Maybe Jang Hyun-Soo will get a shout.
The midfield is a bit shady, and although Yonhap is predicting Han Kook-Young will start alongside Ki Sung-Yueng in their DM pairing, I honestly have my doubts. I do expect Ki to start, but Han Kook-Young had a full 90 minutes against Paraguay. Perhaps Park Jong-Woo will start in the midfield pairing, or maybe Stielike improvises in the LB role and brings Park Joo-Ho up to DM.
The attacking midfield will see Son Heung-Min, but who else? Lee Myung-Joo could start in the hole, and maybe there's room for Han Kyo-Won. Up top, Lee Dong-Gook or Kim Seung-Dae is expected to start, the latter having formerly played with LMJ at Pohang.
This is, of course, assuming that Stielike will go for a standard 4-2-3-1. Perhaps he throws a curveball and we play 4-4-2 from the get go.
The Opposition
Costa Rica stunned everyone at the 2014 World Cup by winning a group consisting of three former World Cup champions, then slaying a tedious Greek side (albeit, on penalties) before finally succumbing at the hands of Van Gaal's Dutch side and Tim Krul's penalty stopping. Nonetheless, it was a heroic run by Los Ticos, and Korean fans could see shades of 2002 in their unprecedented, unexpected glory and euphoria.
However, Costa Rica's World Cup success did not translate into immediate results after the World Cup. I wouldn't classify it as a World Cup hangover, but more of a back-to-earth kind of moment. Under their new manager, Paulo Wanchope, Costa Rica hasn't yet lost, but has drawn Panama and almost fell to Oman in their most recent friendly. Los Ticos beat the Asian minnows (who are getting better, to be fair) 4-3. Needless to say, Real Madrid keeper Keylor Navas didn't start that one.
Costa Rica will likely start Navas in this one though. The netminder has 58 caps to his name and is very athletic and difficult to score on. Korea will need to up the ante on their finishing to get some past this experienced goalkeeper. In defense, Park Joo-Ho could play against fellow Mainz teammate Junior Diaz, who is among one of the 1 of the 16 players who are not Costa-Rica-based.
Up top, Costa Rica has no lack of attacking options, with Fulham's Brian Ruiz, Arsenal's Joel Campbell and Real Salt Lake's Alvario Saborio sharing 204 caps and 59 goals between them.
The Costa Ricans will provide a tough but beatable opponent for South Korea, as two soccer nations with high hopes, who have witnessed the ups and the downs of the World Cup, and both with a new manager, collide in Seoul in what should be an exciting match.
Fun Facts
– Marcello Lippi will be in attendance for the game, presumably to observe his CB Kim Young-Gwon. Lippi is the Guangzhou Evergrande manager, and has had great success with the Chinese club.
– Juventus away kits, scrappy match, tempers flaring and a Kim Shin-Wook goal. That was the last time Korea played Costa Rica, at the LA Coliseum, with a K-League All-Stars team. From January 25th:
– South Korea holds the upper hand in all-time meeting with Costa Rica. The Taeguk Warriors have won 3 games, dropping two and drawing two against Los Ticos.
When?
October 14th, 7am Eastern, 8pm KST
Where?
At Seoul Sangam Stadium, better known as Seoul World Cup Stadium.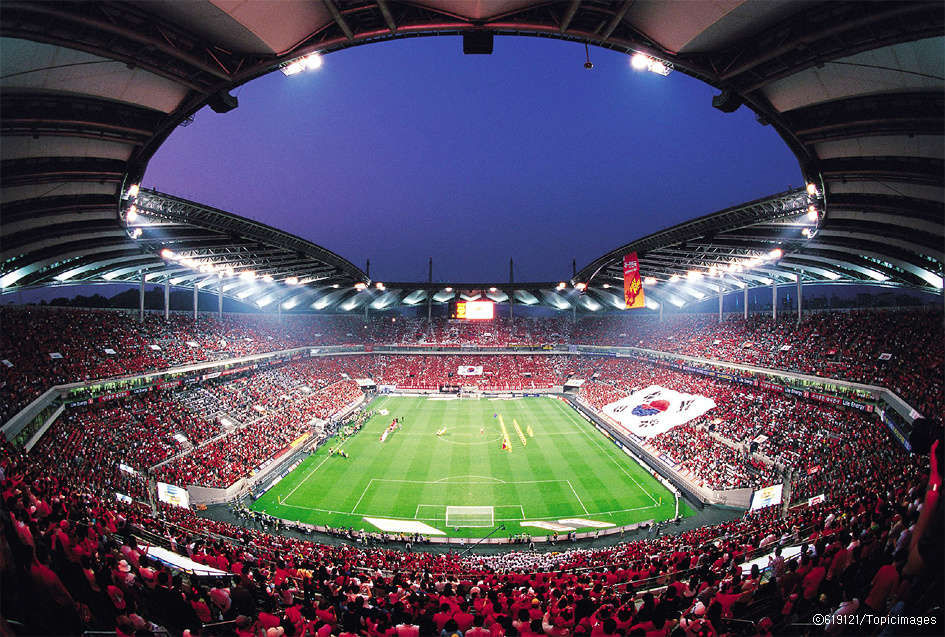 How?
The game will be broadcast on SBS in Korea, who doesn't threaten you with a vicious Korean actress to watch the game.
For you 'Mericans, BeIN Play is your go-to, as they are supposed to carry the game, and I imagine Canada has BeIN Play too. Someone explain to me how that works. I think it's some online streaming?
For everyone else, with no official broadcast in their homeland, you know what to do. Wink wink nudge nudge. Follow us on a twitter for a little help.
Kickaround
– AS previously mentioned, Korea's promising U-20 team failed to advance from the Group Stage in a pretty bad tournament for such a talented group of players. A lacklustre 2-1 loss to Japan angered many, and I'm sure Jinseok will let off his steam in a post in the coming days. Stay tuned.
– The K-League continued action despite an international break. In the Classic, there were a few upsets, with Incheon beating a struggling Pohang, Sangju surprising Seoul and Busan beating Jeju.
– Just the results, courtesy of Jae's twitter:
K League Classic result (MD31)
Incheon 2-1 Pohang
Suwon 2-1 Jeonnam
Gyeongnam 0-2 Seongnam
Busan 2-1 Jeju
Jeonbuk 1-0 Ulsan
Sangju 1-0 Seoul

— Jae (이재혁) (@ArmchairRegista) October 13, 2014
– Jeonbuk move 5 points clear a top of the League, and there's a changing of the guard for second place as Suwon, in damn good form, are in 2nd. Pohang have slipped into third, and look unlikely to defend their title, due to the loss of their main playmaker Lee Myung-Joo.
– With two rounds to go before the split, Jeju, Seoul, Jeonnam and Ulsan are battling it out for the final 3 top half spots. Jeju is probably safe, and Seoul have the odds in their favour, leaving Jeonnam and Ulsan to slug it out with two rounds to go. The Dragons have Seoul and Incheon left, while the Tigers will play Sangju and Seongnam. The 6th place team will be assured of that spot and can play spoiler for the remaining 5 games of the year, while the 7th place team will be forced to play meaningless games and piss off the relegation candidates.
– Speaking of relegation candidates, Incheon seems keen to distance themselves from that conversation, and are looking more like the average team Jae had talked about earlier in the year. Seongnam, who is in their first year as a City-owned team, Sangju, the Army squad, Busan, a team who's just bad this year, and Gyeongnam, who just bad always, are all going to fight to avoid relegation. The last place team gets condemned to playing Bucheon and Choongju next year, while the 11th place team has hope, and will play a K-League Challenge rep.
– Smooth transition, eh? K-League Challenge it is. Daejeon have made me one happy fan by securing a playoff spot, and are 16 points clear of the league with 5 matchdays left. Even with all the games in hand for other teams, it seems Daejeon will have some hardware to bring home this year, and will win the second tier, barring some horrific-but-not-impossible collapse.
– Adriano is awesome. Don't go back to Brazil. Stay with Daejeon. Please.
– As for the 3 playoff teams, it could be Ansan, Anyang, Gangwon, Gwangju, Suwon FC, Goyang or Daegu. Should make for an exciting finish.
– And can't forget Ji So-Yun. The female Korean superstar playing for Chelsea Ladies' failed to make an impact in the season finale, with Chelsea losing the title on goal differential to Birmingham City after a 2-1 loss to Manchester City. Despite the heartbreaking result, Chelsea still qualify for the UEFA Women's Champions League next year.
– Oh, and happy Canadian-Thanksgiving-dinner-leftover week to all my fellow Canadians. In the wise words of a family relative, "The turkey's not going to eat itself."
And on that rather bizarre note, I'll sign off, and we'll see you tomorrow for the KNT friendly. 'Till then, Jalgayo!