On an incredibly rainy evening in Tychy, Poland, our young Taegeuk Warriors played a hotly contested match with South Africa. Knowing that a win would be essential to having any chance of reaching the Round of 16 in a difficult group, head coach Chung Jungyong's men were able to come away victorious 1-0. It was a sloppy night filled with lots of slipping and sliding on a waterlogged pitch, but a win is a win. Even better, Korea will go into the final matchday in 2nd place since they have a better goal difference than Portugal. Let's recap the action, look at the positives from this match, and look ahead to Friday's group decider. First, for those who missed the match, here are some extended highlights from the match:
The match begin with some much-needed changes from Chung Jungyong as his back 3 experiment against Portugal was unsuccessful. For this match, we saw a more traditional 4-3-3/4-2-3-1 formation. In came Um Wonsang, Oh Sehun, and Jeong Hojin, with Jeon Sejin, Lee Jisol, and Go Jaehyeon dropping to the bench.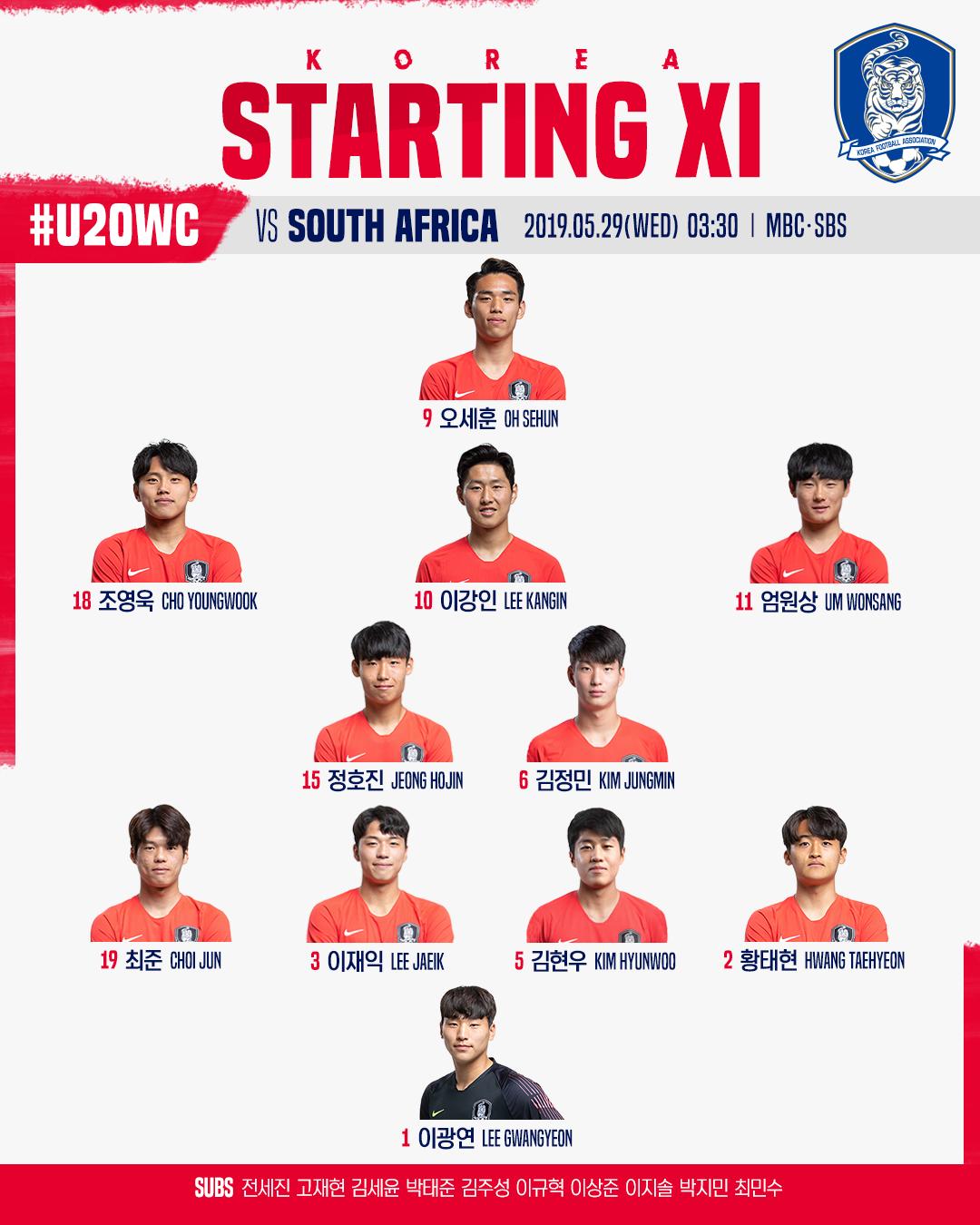 Right out of the gates, it was clear the weather was going to play a large factor. The ball was slow on a slippery pitch and there were quite a few instances of players sliding past the ball on the run. It took both teams a few minutes to adjust to the conditions but it was South Africa who asserted themselves first on fifteen minutes. First, they forced keeper Lee Gwangyeon into a save off a corner. Then, a few minutes later a free kick caused the Korean keeper some trouble. Lee Gwangyeon came out to make a punch but didn't end up getting much on the ball and it came down to South Africa in the box. He scrambled back to make the save off a deflection and off the resulting half clearance, he held a relatively tame shot. The match continued along like this for the next 10-15 minutes but South Africa couldn't make the pressure pay. Their best chance came on 35 minutes as Keenan Abrahams found himself with a free header on an open net. This was Lee Gwangyeon's big mistake as he completely missed the punch. Instead of wheeling away to celebrate, Abrahams was instead left banging the pitch in frustration as his header was way off target.
This ended up being the turning point of the match; the warning sign that woke up the Korean squad. Towards the end of the first half Korea found a counterattack that pushed South Africa back and they were able to go into the locker room and regroup.
The second half was all Korea. The Taegeuk Warriors came out incredibly energetic and began to control the match. Lee Kangin was able to dictate more control from his central attacking role and Kim Jungmin had a much more controlled half in possession. It became a matter of when Korea would grab the breakthrough goal. The first real chance fell to Cho Youngwook, more lively as a winger than as a center forward, but he blasted over after Oh Sehun had played a nice layoff pass to him. Then in the 60th minute, right before being substituted, Jeong Hojin blasted a perfect shot into the post. What a goal it would have been!
Finally, the goal came and it certainly was an interesting one. Off a corner in the 68th minute, Kim Jungmin attempted a shot from the corner of the box. The deflection sent the ball looping into the air and on the way down, Kim Hyunwoo was the most aggressive and his header just squirted into the corner of the net. The weather certainly played a part as a wet looping ball was hard for the South African defense to judge coming down, but Kim Hyunwoo attacked the header and just put it out of the reach of the South African defender on the goal line. The team celebrated wildly and Korea finally had the lead.
From there, South Africa pushed for an equalizer but their attempts were mostly in vain. In the end, their best chance was a last gasp free header in the 94th minute that Lee Gwangyeon was able to save.
This win wasn't necessarily pretty and certainly doesn't put to rest concerns about this squad as a whole, but it does put Korea in a good position to advance to the Round of 16 Friday.
How does the Group Look?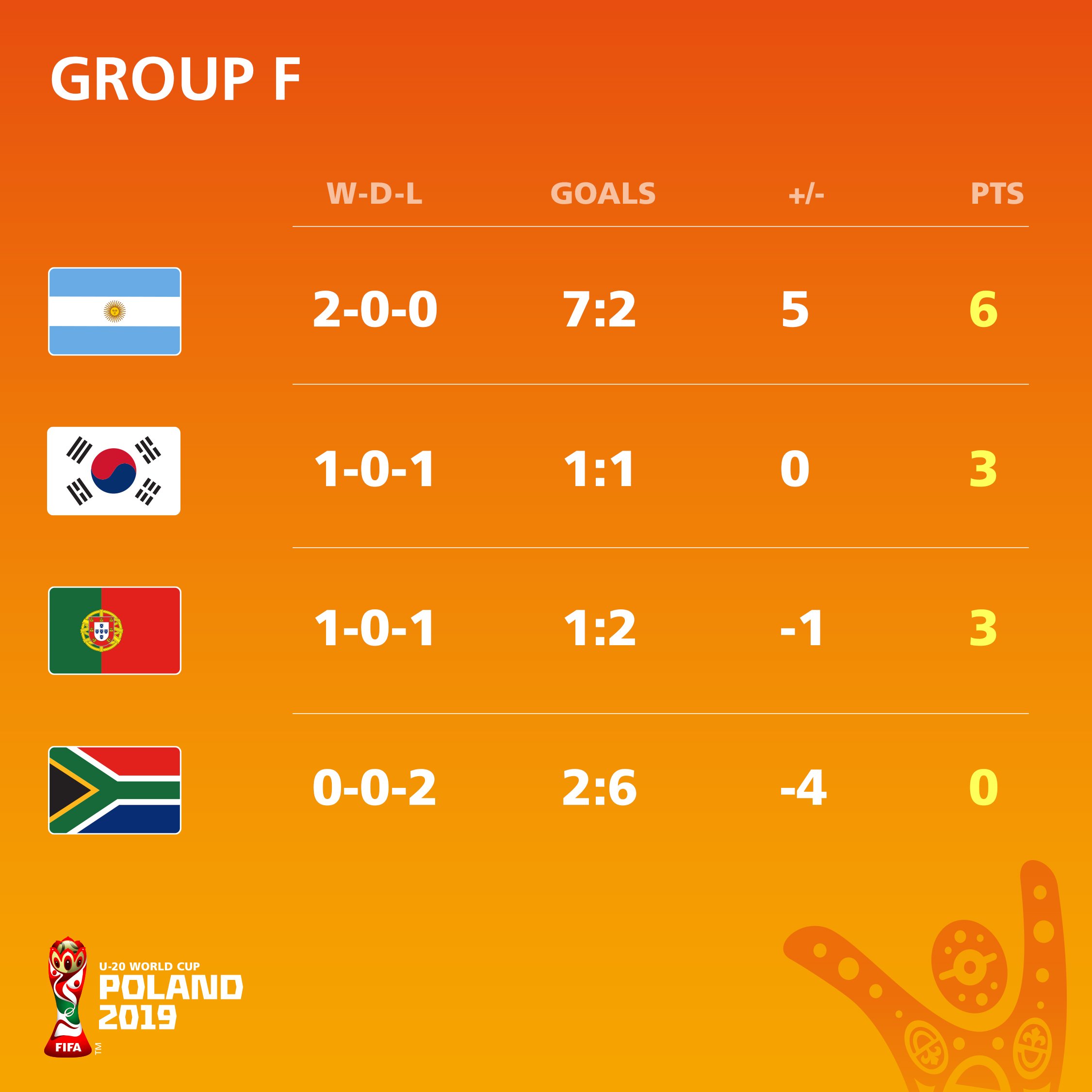 Right now, Argentina tops the group with a goal differential of +5. Behind them on 3 points are Korea and Portugal, with our goal difference better than Portugal's. South Africa have a huge mountain to climb Friday against Portugal.
For Friday's match against Argentina, the Taegeuk Warriors will come out looking to win. They should expect Portugal to take care of South Africa and should try to ensure that they can finish at least in second place. In fact, if we somehow pull off a 3-0 win over Argentina we will top the group and guarantee ourselves a more manageable Round of 16 matchup. We can dream right?
Takeaways from South Africa
Chung Jungyong's squad, while not spectacular just yet, do have pieces in place to become a winning side. In goal, Lee Gwangyeon is a solid shot stopper that is up to the task of keeping his side in matches. Against Portugal, the scoreline could've been much worse had Gwangyeon not come up with so many first half saves. He also kept cool in the face of South Africa's energetic first half.
The back four is pretty solid and if Chung persists with this setup, he has the making of a defense that will be hard to break down. Kim Hyunwoo and Lee Jaeik are good in the center and both Hwang Taehyeon and Choi Jun provide a good amount of attacking help as well. Hwang got into the box twice in the second half and could have set up goals if the conditions were better. Instead, going at full pace on a slippery pitch meant any contact was a bit more perilous and he lost balance on both occasions even if he didn't win penalties.
The midfield mainstays Kim Jungmin and Lee Kangin are both showing flashes of their class. Kim Jungmin showed some great close control with turns in tight areas and he also crunches into tackles to win the ball back. Lee Kangin can really drive forward and push the attack when played centrally. Both Go Jaehyeon and Jeong Hojin performed well enough so head coach Chung will have a decision to make on who to play against Argentina.
Finally, the front three was much better than a two striker system. Cho Youngwook clearly is not a center forward by trade and he looked much better as a winger. He gets into space and draws in defenders before cutting inside to try to make things happen. Oh Sehun is an aerial threat but he also has some hold up play in his arsenal as well. Finally, Um Wonsang just loves taking on his defenders with pace and certainly gave the South African defense nervous energy in the second half. It's not clear if Jeon Sejin will get a start Friday, but he also plays either as a winger or false nine type forward.
We can't be sure just how good this squad is, but we know now that the pieces are there to grind out wins. Friday against Argentina will tell us where the ceiling is for this squad.
Matchday 3
Korea Republic vs. Argentina, Tychy Stadium, Tychy
When: Friday, May 31, 2:30 PM EST, 3:30 AM KST (June 1)
TV/Streaming: KBS2, SBS, MBC (Korea), Fox Soccer+/Universo (USA)
Prediction: 2-1 Korea over Argentina (just like 2 years ago!)
Let's get it. Daehanminguk Hwaiting!