I'm going to try something a bit different here so bear with me. The Tavern is not just a place for news about Korean football, we also thrive on our storytelling about our experiences falling in love with the beautiful game. Here's a story from my experience at the 2017 U20 World Cup Final in Suwon.
As an English teacher at a hagwon in Incheon from 2014-2016, my closest friends were my mainly British coworkers. So, when England went on a run to the finals of the 2017 U20 World Cup in Korea, my friends convinced me to reschedule my flight back home so I could attend the final with them (I was already there during that time for a family visit). It was incredible to sit in the stadium filled up not only with Korean fans, but also many expat British fans excited to watch the Young Lions play for the trophy against Venezuela. They were incredibly ecstatic and drunk by the time the English players came to celebrate with our section of the stadium. My old boss received Freddie Woodman's gloves and another friend (a Tottenham supporter) received Josh Onomah's boot. It's an incredible memory that they'll always have. On Saturday, we'll have that exact same opportunity since we're in our first men's U20 World Cup Final!
Let's take a look back at that magical match in Lublin where the Young Taegeuk Warriors booked their spot in the final Saturday in Lodz.
The Lineup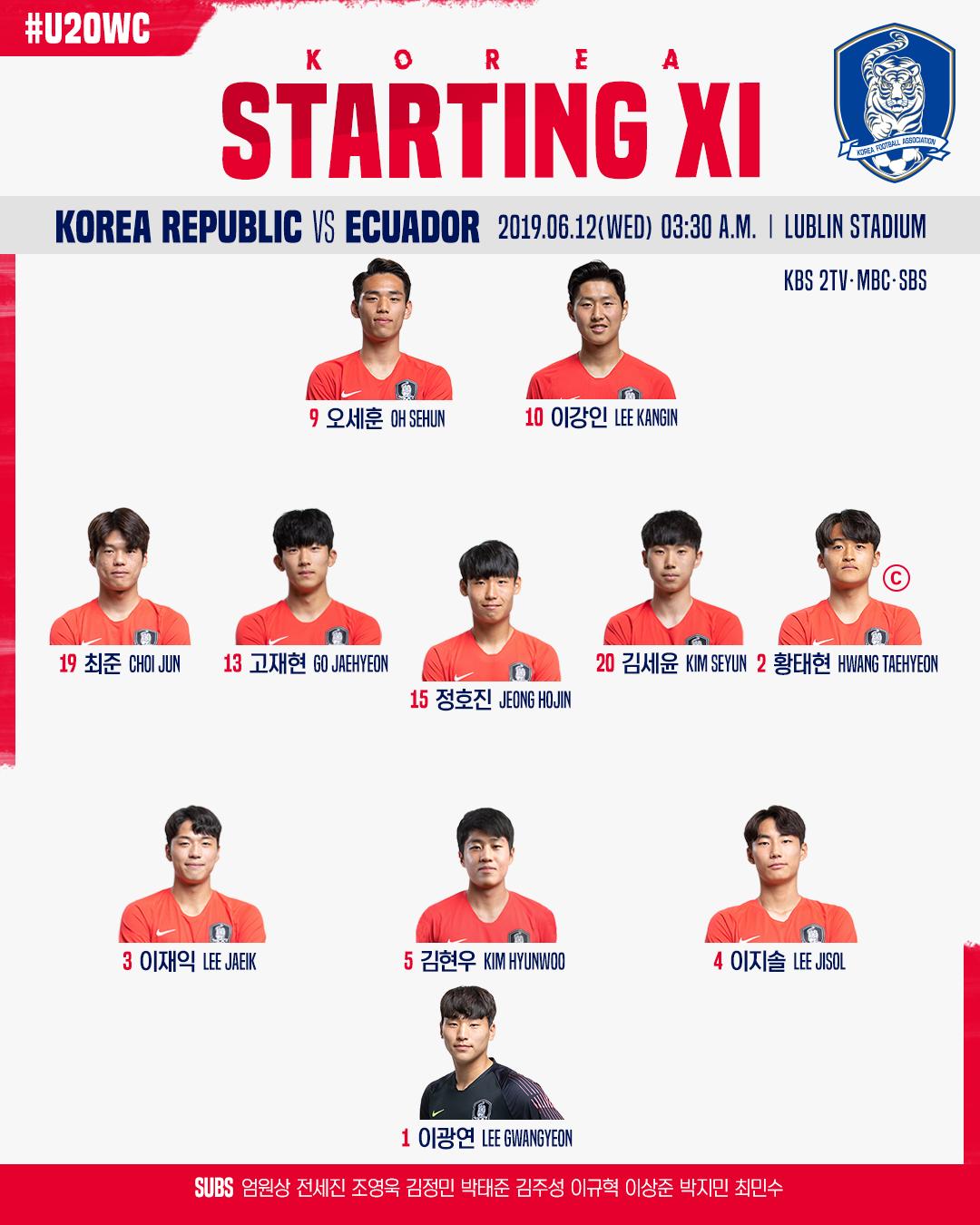 With fatigue becoming an issue in midfield, Kim Jungmin and Cho Youngwook were rested in a lineup that made me a bit nervous. My worries were completely unfounded, as both Kim Seyun and Go Jaehyeon acquitted themselves quite well even though they had received little playing time up until yesterday. Go especially made an impression with his attacking nature and willingness to shoot from outside of the box, shooting just over at one point in the match (full disclosure: I was in the office during this match so I'm not going to remember many details).
Our defense continued to be incredibly difficult to break down, and our wingbacks Choi Jun and Hwang Taehyeon once again provided a lot of great width. Choi Jun (a former Ulsan youth product now with Yonsei University) is quietly making a name for himself with his great play out on the left. Remember, the senior national team right now is spreading play out left on a very regular basis.
Let's talk about the goal for a second: Lee Kangin clearly watched Trent Alexander-Arnold's masterful deceptive corner against Barca. On a foul out near the midway line, Kangin first makes it look like he'll take the free kick on a quick restart. Next, he waves that off and motions for his teammates to ready themselves around the box. However, out of the corner of his eye he sees that Choi Jun is absolutely unmarked on the left flank. He plays a simple straight through ball to Jun who runs onto it first time and curls in a beauty. Three Ecuadorean defenders are scrambling for the block, but Jun gets just enough height to evade their slides. 1-0 Korea.
Ecuador had a goal ruled out via VAR in the second half. The call overall was a little bit tricky not because the line was tight but because Ecuador had so many players offsides! On clearance off a corner (I think?) 3-5 of Ecuador's players were really slow to get back onsides and a ball was pumped back into the box. The resulting shot hit the post and then a quick rebound was into Korea's net. Luckily, the VAR correctly ruled that at least 1 of Ecuador's offsides players attempted to get their head on the long ball. No Goal.
And then there was this:
I mean, Campana was absolutely sure he had scored a late equalizer. Lee Gwangyeon surely has a strong case as the best goalkeeper at this tournament and that was an absolutely world-class save off a point blank header. That was in the 95th minute of added time! Michael Oliver finally blew the whistle after the resulting corner and that was that. Korea had made our first FIFA U20 World Cup final, surpassing the 1983 semifinalists.
Takeaways
This team is peaking at the right time and more importantly, has the depth to rest players without suffering. Kim Jungmin and Cho Youngwook started on the bench and Lee Kangin was substituted in 73rd minute.
Coach Chung Jungyong is putting on a masterclass in rotation and substitutions as every change he's making is working out for him. He now has the options of Um Wonsang, Jeon Sejin, Cho Youngwook, Go Jaehyeon, Park Taejun, Kim Jungmin, and Kim Seyun in his midfield arsenal. It's an embarrassment of riches that standout K League players like Um Wonsang, Jeon Sejin, and Cho Youngwook are not even guaranteed a starting spot in these starting lineups. Chung has worked with this squad for the past two years and really knows his players and what roles they can work in. I'm excited to see what lineup he comes up with for the final.
We'll be back Friday with a full Ukraine preview!
Match Info:
Korea Republic vs. Ukraine
Stadion Widzewa, Lodz, Poland
June 15, 12 PM EST, 1 AM KST (June 16)
Broadcast Info: FS1/FSGo (US), TSN/TSNGo (Canada), All KOREAN MAJOR NETWORKS.
I just want to win and have that memory just like my friends have. Let's get it!