Our unlikely run into the finals of the Asian Cup ends in tragedy with Australia scoring out of nowhere then scoring again after an awful defensive mistake from an unlikely source, KJS. Last edition we couldn't properly send off PJS and LYP due to a controversial loss to Japan in PKs. And this time we once again fail to properly send off Cha Du Ri. Seeing him dejected on the pitch with teammates trying to comfort him evokes the same bittersweet emotions I felt when I saw Lee Young Pyo fooling around with the THIRD PLACE TROPHY. And from a fan's perspective, when might be the next time Korea gets into a final period? To lose in a final… even with a depleted team hit with injuries – it's such a disappointment especially considering that Australia played pretty poorly and the game was fully winnable on our part. The tournament may have ended for us in a very tragic fashion (I actually wouldn't feel as disappointed had we gotten knocked out early as predicted), but the raw relief of tension when SHM scored that equalizer in added time is something I will definitely remember for a long time.
In this review I will cover the following:
Match Content
What Stielike MUST Address going into the WC (based on today's match)
Stielike's tenure so far
Player Thoughts and Future NT XI Projection
Match Content:
Before the game: Lineup Confusion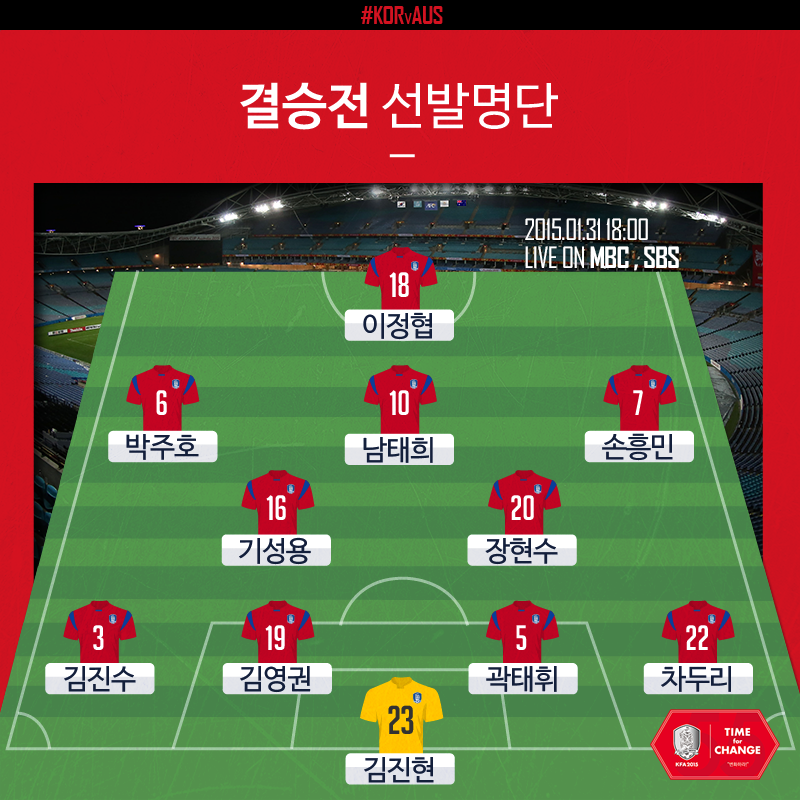 When this lineup came out an hour and 20 minutes before kickoff, I must admit I was pretty surprised. In a lot of previews the day before, we had reports that Stielike had trained with this very "plan B" lineup, with PJH out wide and JHS in the middle partnering JHS. I didn't think much of it at first, and honestly I fully expected the usual.
Now why would Stielike change the fully functional, successful CM pairing that he had stuck with all tournament? This alone kept me thinking for a full hour. Nobody really had an idea what Stielike was planning. What I first considered was how much we were pegged back by Australia in the second half of that group stage match. After Cahill, Kruse, Leckie, AND Juric came on the pitch at the same time, we were damn close to conceding, even after the substitutions of HKY and JHS. So this time, perhaps Stielike wanted full defensive solidarity with JHS covering CDR and PJH and KJS taking turns covering each other, with KSY playing a more advanced role and NTH and SHM free to interchange and counterattack.
How naive I was to think that this lineup was the right way to go.
First Half – So Close to Success
This plan just did not work out. We did a good job defensively, but not so much in any other are of the pitch. While it lasted, PJH managed to find the space on the left numerous times yet the midfield partnership of KSY and JHS was more or less overrun for long stretches of time.
In the end, PJH out left was a VERY poor idea. A large contribution to our defensive stability this tournament was the fact that PJH ALWAYS covered for KJS's runs and pretty much anywhere there was open space. Now, pushed out to the wing, PJH was not nearly as effective. In fact, you could easily make an argument for how PJH@LM actually hurt the defense more than stabilizing it. Plus, PJH had limited offensive output. He used up all his energy running up and down the pitch – isn't this LKH's role? Or HKW's? The whole time he was doing what he doesn't do very well (offensive threat) at the expense of what he DOES do well (simple passing and defensive coverage). Australia's RB Franjic was playing pretty poorly for the most part and it would've been MUCH better to let SHM run at Franjic. If Stielike wanted to neutralize Australia's right side, it was a really bad idea because their right side wasn't very threatening anyway. In fact, our win in the group stage was THANKS to Franjic messing up. Why bother going with Plan B when there was a WORKING PLAN A? It's not a coincidence we played better in the group stage than we did in the final.
Fortunately, we still kept Australia at bay for the most part, but gave them way too much control over the game. And, with a centerback next to him, Ki's influence waned significantly. In every other game you see Ki dictating the play for us. But even in possession, if we didn't quickly lose it, Ki didn't see much of the ball.
If Stielike really wanted to use JHS it should have been a Barca 4-3-3 with JHS as the DM and PJH as the left CM, where he still would've been useful in defensive coverage and keeping possession in the middle, the two traits that I consider PJH to excel at the most.
Stielike's gamble would have paid off on one condition: had we finished the first half scoreless. Stielike came into the game playing the "wait and counter" game. We fended off most of their attacks, as in the first half, before Luongo's goal that really shouldn't have happened, we limited them to one shot on goal. What we wanted was frustration on their part + mistakes that we could capitalize on. Hoju made those mistakes early on, but that frustration went in the opposite direction. There were two fatal factors, none of which Stielike could do anything about, that made everything go wrong.
We couldn't capitalize on those errors at all. We managed to carve out quite a few chances here but our designated finisher Son just couldn't convert. It was very frustrating to see three very good chances go to waste, especially considering that Son's supposed to be our top finisher. Because as the match progressed Australia's defense solidified and didn't leave as much space at the back. Son also had numerous 1v1s with a defender that he should've done better on. On a side note, we REALLY missed Lee Chung Yong this game. Actually, the whole Fcking tournament. We had NO creativity whatsoever (remember that like all our goals came from set pieces), and I know that Lee Chung Yong would have been a major help considering all the space Australia were conceding. Son is a player who thrives off his teammates, but without LCY we weren't providing him the best service, that's for sure.
Massimo Luongo's goal. Can we talk about that for a bit? HOW THE **** DID HE SCORE THAT? One touch, second touch, boom a perfect shot into the near post corner. No one could have seen this coming, and honestly had it not been for this one goal where we went behind, I think we would have had a solid chance of winning. I want to say Ki was caught out of position as Luongo's first touch took him out of KSY's tackling range, but either way that goal really shouldn't have happened. Guess you can't stay lucky forever, but our first real instance of "football bad luck" couldn't have come at a worse time, especially considering how bad we are at clawing back into a match and how good we are at maintaining a lead.
Had we been able to capitalize and not get scored on, Stielike would have accomplished everything he wanted to accomplish. You also have to ask what might have happened had we gone with the usual KSY-PJH MF with HKW or LKH or someone starting, but … oh well. In the end, the lineup the media had dubbed "Plan B" did not work. Perhaps tactical changes before a final was just a bad idea.
Second Half + extra time: Disarray
We came out early in search of an equalizer but it just wouldn't come. In fact, there were periods of Australian dominance that kept us from attacking. I think the best course of action was to take out Jang Hyun Soo and revert back to the usual formation with PJH in the midfield, but instead Stielike stuck to the plan B and took out NTH. When the goals still didn't come he actually put in both Kim Ju Young and Han Kook Young and put KTH up top. At times KTH was playing the CAM role. This actually has been discussed before, because if we revert to 뻥축구, which we did, KTH is needed up front. And KTH actually won all of his headers. Problem is, they were all saved by the keeper or went out of bounds. Putting in HKY was actually a very good idea, as he provided the energy we needed in midfield. He actually initiated the attack that led to SHM's crazy equalizer in the 91st minute.
The pattern late into regulation time and continuing into ET was very obvious. Boot it up and hope for the best. Chaos ensued. It didn't work often, but when we did manage to get a good knockdown we looked pretty dangerous. Chance after chance was wasted, though.
And then came the match winning goal. Kim Jin Su, perhaps our most solid player all tournament, of all people was the one to fck up big time. He had three very good chances to just boot the ball upfield. But instead… Juric manages to nutmeg him at the edge of the box, and boom, substitute midfielder Troisi scores. And that was the end of our Asian Cup run. A first finals appearance since 1988, a first win since 1960… all gone. What a shame.
Three things must be addressed in the future (based on the Australia match alone – there are many more addressed later):
1). We play too nice
Australia ironically won the fair play award after fouling the crap out of us. There were plenty of two feet – studs up challenges that were unpunished, and their fouls that DID go noticed by the ref only resulted in single yellow cards. The ref also didn't notice when the goalkeeper stepped out of his GK box with the ball in his hand. Us, on the other hand, gave Australia way too much respect. Japan has the same problem, and Aguirre really set out to fix it with mixed results. Some refs will punish challenges, some will not. Alireza Faghani was the latter. We should've adapted to it.
Also, I think it would have been better to impose our game upon the Australians instead of taking a "you do your thing, we will cope with it" approach. At least we could have seen KSY and PJH calm things down and at the very least, try to patiently build up play.
2). Attacking Approach
We cannot cross every single time we get into the final third and expect to produce a goal out of it. Without Kim Shin Wook's head or Lee Dong Gook's volley it really doesn't work, considering we've seen that Lee Jeong Hyub can't win a header to save his life. Why is creativity so lacking on this team? With the current lineup there is only one man who can create plays and that is KSY. Again, LCY was sorely missed. His dribbling ability and eye for that killer pass (remember all those assists he had for SHM in the run up to the WC?) would have been especially useful. Every team that plays 4-2-3-1 NEEDS the #10 to make those 1-2's, throughballs, and layoffs. Without creativity and attacks down the middle, we can only cross cross cross, which doesn't really fit with our players. This is why I really hope BSH turns out well for Barcelona B because a player like him in the #10 position is exactly what we need to inject the fluidity we need into the offense. Nam Tae Hee couldn't provide it, KJC was anonymous pretty much every game he played, and Lee Keung Ho couldn't provide it. Only LCY has this ability.
However, at least we are making runs for players to pass into, which was completely missing from the 2014 campaign. Fluidity in attack has gotten better, but the finishing woes are obviously not gonna go away unless we get finishers other than SHM.
3) CLEAR THE BALL
Our team has this tendency, instead of clearing the ball or passing 180 degrees out, to keep the ball and fight physically to shield it. Kim Jin Su is particularly guilty of this, but so is much of the backline. In the games before the final, we weren't punished for this, but you guys all saw that second goal. KJS could have just cleared it, but why did he choose to fight it? It's always best to take the safe route than fighting for the ball and backpassing to the GK for the clearance.
Stielike's Tenure So Far?
The Korean media has taken quite a liking to Stielike, and for good reason. He has a much higher win rate than CKH or HMB and with the depleted team he had, he got damn close to winning the whole tournament. He is also quite the motivator and unifier, as seen when he personally high fives every player when they come out of the tunnel. Never satisfied, Stielike has a good grasp of our problems and is never satisfied even with the visible improvements, saying there is always work to be done. Is there cause for optimism? Absolutely. I have stated many times that the fact that we hadn't conceded until the final was due to luck, but before the final we had played a straight up 8 hours of football. That's ridiculous. No amount of luck can allow you to not concede in that much time. Therefore, you must conclude that Stielike HAS improved the team to a certain extent.
Attacking Fluidity has gotten better with players at the very least making runs, which was noticeably absent under HMB (but we still can't create down the middle)
Set pieces – we won pretty much all our set piece headers, which we don't see the KNT do very often
Defensive/mental focus – AC2015 started out with a cesspool of defensive and individual errors but it got much much better over time. I never would have IMAGINED that we'd go 8 hours without conceding
Discovered KJH and LJH, the latter of whom we'll definitely be seeing more of.
But to what extent? Granted, he was given VERY little time, but we need to consider than Stielike has some limitations.
His substitutions are a little weird. We had no attacking depth this tournament after the LCY KJC injuries but still. HKY + KJY when we're losing? Keeping PJH and LCY on the pitch when they're clearly injured/concussed?
Tactical inflexibility. Once again, yet another manager can't find the balance between being too liberal and too conservative. Perhaps Stielike will show tactical flexibility, as time progresses. Hopefully, we see him trying out a 442 or a 433 in the WCQs. And in hindsight, the tactical shift he made for the final was NOT a good idea at all.
Lack of a Plan B: Late in the second half and ET, the only answer was long ball after long ball which, without a target man up top, just didn't work. If today's lineup with JHS in the DM was a Plan B it just didn't work and failed to bring out the true strength of KSY.
This is more of a team failure than a limitation of Stielike, but counterattacks and finishing – we can't execute counters properly. We also can't finish. It results in a pretty bad combination.
The defense isn't completely shored up. A big difference between HMB and Stielike was luck. The defense made the same mistakes early on, but went unpunished. It has certainly gotten better – I never expected KTH and KYK to be as good as they have been this tournament as usually these guys suck even against Asian opposition – but as the KJS mistake and the failure to track down Troisi showed, we have a lot of work to do. A lot of the defensive success, in my opinion come from Park Joo Ho buying the time for the defense to shape up, but who knows.
Didn't Stielike say he wanted us to attack down the middle? There was none of that this game. In fact, there was very little of that this whole tournament and as I mentioned before we just can't score from open play. Most likely this is due to the absence of a strong #10, or at least someone who can act as the #10 (LCY).
I am optimistic about the direction Stielike is taking, but he has a lot of work to do during the WCQ's. Fortunately, this tournament will surely have helped with the chemistry issues as well confidence. I don't forsee us going through the troubles that we had to go through last time.
Player Thoughts and Future XI Projections:
1). Goalkeeper
Kim Jin Hyeon is a beast. We've agreed on this. We finally have a trusty #1 between the sticks, and he did all he could, although that second goal he really should have just caught it. Moving on.
2). Defense
Remember how we were raving about how good KJS was all tournament? Naturally, with the gravity of the mistake he made you start wondering how YSY would have done. They're very similar and to argue that one is better than the other at a certain aspect of their game is really an endless debate. As of right now, KJS will certainly be the starting left back for a while because mistake aside, he was fantastic this tournament. It's also hard to blame the guy because he knew the gravity of his mistake – how would you feel if you single handedly messed up to lose a final on your 선배's final match?
믹스트존에서 만난 김진수는 "미안하다는 말 밖에 할 수 없는 것 같다. 차두리형에게 마지막 선물을 해주고 싶었는데 너무도 큰 실수를 저질렀다. 이번 경기를 통해 내가 얼마나 부족한 선수인지 느꼈다"며 어렵게 입을 열었다.

김진수는 "한 번의 잘못된 판단으로 고생한 모든 분들과 축구 팬들에게 실망감을 안겨드렸다. 너무도 경솔한 행동이었다"며 깊은 한 숨을 내쉬었다. 이어 "지금까지의 축구 인생에서 가장 큰 실수였다. 평생 잊지 못할 것 같다. 모두에게 죄송하다"고 했다.
But considering KJS played literally every minute of the tournament, the best thing in any other long tournament to do would be to rotate between the two. When both are on form, little separates the two.
As for RB… I will miss CDR dearly, as I'm sure many of you guys also will. A player with his unique set of physicality, speed, and stamina is hard to come by. It's SO sad he also exits the AC with not-so-good memories as did like everyone else before him. So who's our next right back? Again, who knows. LCW? OJS? KCS? We will see who's on form and who Stielike takes a liking to.
The CB pairing still remains up in the air as I don't expect to continue to see KTH + KYK in the long run. Again, this will largely come down to club form. Kwak doesn't have much left in him and Kim YK will surely regress in the C League. I really hope HJH can start playing for Augsburg again but considering he's injured AGAIN… it might take a while.
3). Midfield
I never want to see anyone who's name is not PJH parter KSY in the middle. PJH has exceeded all expectations and has really shown that he is the perfect guy for the role. JHS excels either as a CB or as a late sub for defensive stability, not a DM. I worry for what will happen when PJH retires, but I'm sure SOME defensive midfielder in the K League will step up. Perhaps Son Joon Ho, the U16 DM Jang Jae Won, or maybe (this is a bit of a stretch) Lee Jae Sung?
The real question lies in the #10. NTH was supposed to be the savior this tournament after his exploits vs Saudi Arabia but to be honest he was no better than the always anonymous KJC. In fact I found myself wanting to see KJC again sometimes. I think this tournament has exposed our lack of depth in this position. KSY is not a #10 at all, and hasn't been too influential as an attacking midfielder (there is a difference between a #10 and a CM who forays far up the pitch to provide the killer pass or take a shot). To me, the answer is LCY. KJC is horribly out of form and so is NTH. Going into the WCQ, I would very much like to see LCY there.
Alternatively, we could wait a bit and perhaps bleed BSH into the first team. BSH will be playing professional football with Barcelona B in the Segunda Division in a year's time. Could he be the answer to our #10 woes?
4). Striker
I've given my thoughts on LJH many times before. Limited but solid. Fortunately it looks like JDW will start to get some playing time with Augsburg, so he should be eased in to the team soon, which will definitely help with the offense. And with KSW back, there is an easy plan B in front of us that SHM will really appreciate.
We've discussed the option of KJC as a striker. It really does make sense – he's good in the air and has a powerful shot. Whether KJC, JDW, or KSW take the starting spot in the WCQs is once again, something you can't predict. In the best case scenario, JDW starts scoring for Augsburg again. God knows we've missed Ji very very much.
We've also discussed the idea of introducing LSW to the national team setup. He'll also be playing professionally next year, and next year he'll be 18. By Russia 2018 he'll be 20 – he's certainly ready play for the KNT by then. For a discussion of LSW's pathways to the national team (it's inevitable he'll make it, he's far more talented than any of our strikers right now for sure), check out Jae's "Should LSW be Fast-tracked article."
Conclusion:
I am sorry, CDR, that your NT career has ended with heartbreak. The whole nation and the players feel the same way. After watching this video I teared up a bit, and you can see our favorite announcer Jang Ye Won doing the same. Cha Du Ri, I will never forget your services to the national team. Thank you for the memories and please coach your son into a monster of a footballer.
I am also sorry for the players, who lost their golden opportunity to break the AC drought. But this AC brought optimism and revitalized public interest in our team once more after the 2014 failure. Optimism has largely been absent altogether from the senior NT team, and I desperately hope that Stielike can take us in the right direction going forward. Losing in a final especially hurts, but considering the circumstances we have to be proud of this team. After all, pretty much nobody predicted us getting this far in the first place just after looking at the striker callups. The mental strength needed to pull ourselves together after losing the two vice captains and the first four strikers is not easy. And  As LYP mentioned, the players, having played together for so long and getting unexpected results along the way, will surely feel more confident in their teamwork going forward into the World Cup qualifiers. At the end, we overacheived and the players played their absolute best.
Stielike said after the match "Korea, you can be proud of your boys." And we have every reason to be.