Possibly the best match of the 2016 Rio Olympics football tournament, the Korean national men's Olympic football team led twice against the mighty Germans – but Hwang Heechan, Son Heungmin and Suk Hyunjun's goals could not secure three points, as a deflected free kick in the 92nd minute by Serge Gnabry broke Korean hearts (and sent the internet into meltdown).
Two minutes after the game… meltdown indeed:
Oof.
F*CKING HELL!
Yeah, we drew, and if two hours ago you offered me a point I would have bit your arm off for it. A point against Germany? YES PLEASE.
But to go from Quarter-Final qualification, famous come from behind win against Germany off all sides… to a flukey free kick goal leaving us with a match against the reigning Olympic champions with a loss unacceptable… it is a massive punch in the gut.
Watch this space for my recap. I'm typing it as you read these lines.
Starting lineup:
Shin Taeyong did some things I expected and some things I didn't. We all expected a 4-2-3-1, and that's what we got. I personally expected Ryu Seungwoo to be dropped – indeed, he was. No one saw the Hwang Heechan start coming – a 20 year-old in such a high pressure match against physical opponents. The backline remained unchanged, while Kim Dongjun came into goal.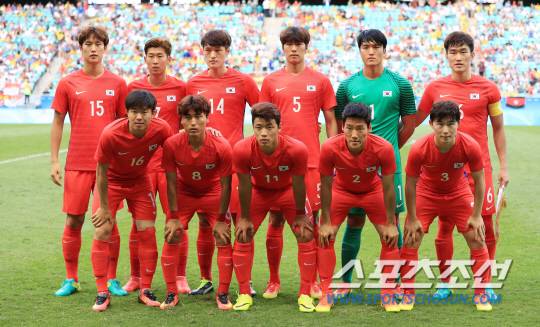 Germany's starting XI: Horn; Klostermann, Ginter, Sule, Toljan; S. Bender, L. Bender; Gnabry, Meier, Brandt; Selke.
First half:
The first half began with Germany probing the Korean half, looking for the early goal. But they were far from impressive. Korean centrebacks and defensive midfielders did well to repel the danger, and the team showed promising counter attacks down the right side with fullback Lee Seulchan playing higher up, almost as a wing-back when Korea was in possession. Hwang Heechan drifted over to that side to try and work some magic with Kwon Changhoon, but the latter was often outmuscled by physical Germans.
When defending, Korea set up in a 4-4-2 shape with Hwang Heechan and Moon Changjin pressing, and Son Heungmin + Kwon Changhoon being sure to stay in a line with Park Yongwoo & Jang Hyunsoo.  They did this well, given that they really had to track back more than they usually would.
That seemed to be the early gameplan. See if our defense could stand the test of the Germans, and see what they were like in possession. Then, win back the ball and counter. Hwang Heechan was off to the races in the 6th minute, but his shot was saved as it was right at Timo Horn.
In the 23rd minute, with no clear-cut chance for either side, Korea won a corner kick. And the most incredible of things happened. Kwon Changhoon stood over the ball, calling for "the number 2". Jung Seunghyun, the team's greatest aerial threat, made a run towards Kwon and connected his low cross with a diving header. That turned into a pass for Hwang, sitting on the near post, and the Red Bull Salzburg man, scolded by some for not being able to finish, did a weird thing – he absolutely did. Through the legs, off the post and in – Korea were miraculously in front, to the delirium of nearly everyone in the stadium. They brandished Song Juhun's jersey – the injured centreback forced out of the side at the last minute – as a tribute to their fallen teammate. Korea was ahead.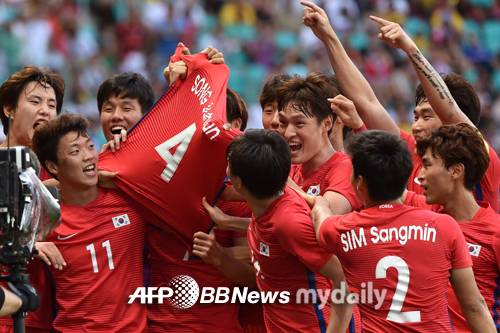 Perhaps caught aback by the lead, Korea began making a flurry of mistakes. Shim Sangmin bombed up the pitch uselessly, leaving a hole in the backline for Germany to exploit. Passes began to go even more astray. Germany didn't force themselves back into the game – Korea left the front door not just unlocked, but wide open. First Gnabry whistled a shot wide. Then, Moon Changjin fouled, and a free kick went to waste, but then Moon gave the ball away again. The Germans didn't need to be handed another chance. A pass to Serge Gnabry, in the box, with Jeonnal leftback Lee Seulchan squared up – and Gnabry took his chance, curling a perfect goal into the low corner. Kim Dongjun couldn't do anything about it.
Korea had their backs to the wall. I was begging for halftime:
https://twitter.com/taeguk_warrior/status/762373329965748228
Brandt toe poked a shot off of a quick corner at Kim Dongjun, who saved… then later, Germany passed laterally with numbers, leaving fullback Klostermann with a crack at goal – luckily he hit the side netting. Halftime came, although at a price: Jeonbuk centreback Choi Kyubaek gave up a free kick, which seemed poised to be taken, but the referee called on the stretcher as Choi collapsed, clutching his head.
Second half:
At halftime, some people were singling out the poor performance of Moon Changjin, calling for his withdrawal and the inclusion of Fiji hat-trick sensation Ryu Seungwoo. However, Shin's halftime sub was instead to take off Choi and bring in Gwangju defensive midfielder Lee Chandong. Lee partnered up with Park Yongwoo in defensive midfield, pushing captain Jang Hyunsoo into the centreback to fill Choi's spot there.
51st minute: Korea misses a golden chance. Hwang Heechan and Kwon Changhoon chased down the German keeper, who took a heavy second touch. Kwon seemed destined to punish him with an empty net goal, but Timo Horn just – and only just – got a foot to the Suwon Bluewings man's effort.
54th minute: Korea was punished for failing to convert. Lee Seulchan passed to nobody, allowing Meier to run in between the midfield and defensive channels, while Selke split the centrebacks and beat Kim Dongjun, who definitely went down early. A lax goal to concede, and Germany had the lead 2-1.
But not for long. Son Heungmin, who had been trying to feed other players all game long, decided that he was going to take his chance. A long goalkick from Kim Dongjun met Son, who exchanged passes with Hwang Heechan and dribbled at two German defenders into the box. He found space outside and coolly slotted with his left foot through the legs of the keeper. A moment of sheer Son brilliance, and 2 minutes after Korea had gone down, they were back on level footing with the mighty Germans.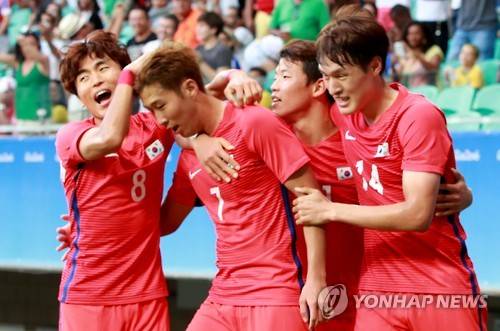 That was the spark Korea needed, and their confidence grew and grew, and while we were begging for halftime to come earlier, instead we were now begging for more time – as the Koreans looked buoyed by the goal. Hwang had a couple efforts, but he went back to his usual unfortunately ways of striking right at the keeper. Park Yongwoo spotted Son's run, and a delightful backheel flick unfortunately didn't fool the German keeper.
Germany were shaken, passing so messily, their fatigue so obvious, their attack suddently toothless. Shin Taeyong did something so few Korean managers do – he went for it. Struggling center midfielder Moon Changjin was taken off and on came Porto's man, our target man, Suk Hyunjun. "Is Hwang moving into midfield?" people asked, and Shin's answer was a resounding NO. 4-4-2. Midfield line pushing up. We were going for it.
It was a truly thrilling feeling. With that 75th minute substitution, South Korea weren't up just against Germany. They were up against all the doubters. All those who claimed inexperience would be their downfall, that 2012 was a fluke, that this team could never dream of going there. And their response, THIS TEAM'S RESPONSE, was not submission. It was not satisfaction with a point. It was not an avowal of Korea's inferiority as a footballing nation. It was a bold "we are going for the win" at the 2016 Rio Olympics.
Suddenly, my proclamation over at Sandals For Goalposts, which was to the effect of: "Outscoring Germany would be a Korean fan's wet dream – hardly pragmatic or achievable", became very, VERY achievable. It was right in sight, because we, little Korea, against mighty Germany, were going for it. We were going for the win because we had the upper hand, because it didn't matter what clubs the players played for, or how many pro minutes they had had, because right then and right there KOREA was so obviously on the verge of victory.
Hwang Heechan missed another big chance. Ryu Seungwoo came on, Kwon Changhoon came off. Germany's attacks were feeble, Korea were trying to find that right opportunity. And in the 86th minute – it happened. Jeonnam fullback Lee Seulchan made amends, rounding his tired marker, barging into the box, looking just to get a ball in…
He hit a low cross… the keeper only deflected it… and Suk Hyunjun tapped home, falling to his knees in prayer as everyone else in the stadium rose to their feet in astonishment. Korea 3, Germany 2.
Suk Hyun-Jun goal puts Korea ahead of Germany 3-2 in '86 pic.twitter.com/65BXYloeC8

— Taeguk Warriors (@taeguk_warrior) August 7, 2016
Surely, we could hang on. Surely, the footballing gods wouldn't pick on us this time. Surely, the quarter-finals were ours, a group victory in sight, and a nation would awake to "Korea stuns Germany" on every newspaper & news portal in the land.
Well, the footballing gods can really go fuck themselves.
Minutes after Suk Hyunjun tripped over a chance to put the icing on the cake, a 3v1 effort gone to waste (of course, count on Korean teams to screw up a 3v1 against a tired single defender), Son Heungmin gave up a controversial free kick on the top of the penalty box in the 2nd minute of 3 injury time minutes. Serge Gnabry lined it up, and his shot seemed destined for the wall… but Hwang Heechan hadn't jumped, too busy dealing with a German right in front of him, who ducked at the last second… the ball clipped his corner and deflected into the net, leaving a helpless Kim Dongjun watch his net be breached a third time, none of which were his own fault.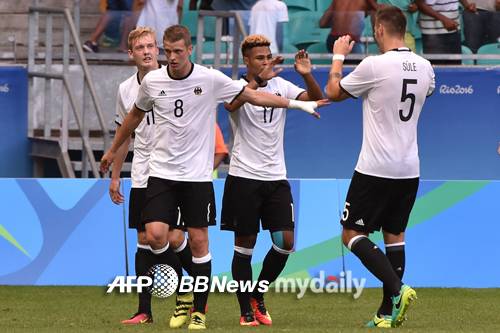 The final whistle blew. Korea 3, Germany 3. For the German, an annoying draw met with relief. For the neutral, a thrilling match of football, maybe even eclipsing the incredible Nigeria 5:4 Japan of last round. For the Korean fan – a crushing draw. Because somehow, against Germany of all teams, we will not feel happy with one point. On this day in Salvador, when so many players had the performances of their lives – this team deserved nothing less than a victory.
Player Ratings:
Kim Dongjun – 6 – He had nothing much to do today, a couple of reflex saves that went right at him. His distribution was iffy but he gets a hockey assist for the goal kick to Son Heungmin. Maybe could have made a better go of the second goal.
Shim Sangmin – 4 – Let his teammates down. The guy doesn't know how to pass, and if he can't, pass or make himself available for one in offense, then don't barge up the pitch like an idiot. By far the worst performer of the two matches, justifying my and many other's call for a backup left back such as Seo Youngjae at this tournament.
Jeong Seunghyun – 6 – Screwed up on the Selke goal by coming out aimlessly, but assisted the first with a diving header. Otherwise, did well against Germany. Yup, we're at the point where even conceding three goals gives you an above average rating as a centreback.
Choi Kyubaek – 6.5 – Played 45 minutes before subbed off due to injury. Didn't do anything stupid, like he usually does–shed his Mertesacker-esque reputation for forgetting his position for a disciplined game.
Lee Seulchan – 6.5 – Again, this is a weird one. Playing almost as a wingback when Korea had the ball, looked good in attack, though I wish he'd pass more nimbly to get up the pitch quicker. Turned over the ball that let to second goal, but assisted what should have been the game winner. All in all, a good and bad night for the defenders – could have been far worse.
Jang Hyunsoo – 6.5 – He never, ever looks truly in position anywhere. I'm not sure he has one. As DM, didn't let anything in up the middle from Germany. As CB, screwed up on second goal but nothing more. As captain, wasn't particularly inspiring. Despite all this, his ability to play many positions helped today for sure.
Park Yongwoo – 7 – I'll have to re-watch, since I was a nervous wreck, but he looked solid, composed, won the ball back well, broke up passes, even showed his playmaker asset on the Son backheel chance with a lovely ball over the top.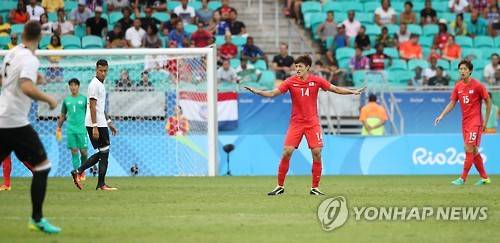 Son Heungmin – 8.5 – Brilliant individual goal, always trying to create something. Sometimes overly so, hence not a perfect 10, as at times he killed the attack by running into too many German defenders. But there were so many – a testament to his calibre. Any doubts about his fitness erased – I truly hope he does this to Mexico too. (Also, early results from the Tavern Twitter Man of the Match poll give him the award with 100% of the votes!)
Moon Changjin – 4 – Did he do anything other than being a blackhole? Something about Moon changed ever since the Fiji game. He's lost in all the action. I advocated for his inclusion for two reasons 1) Ryu starting would be unwise 2) he can score, and we need goalscorers. I still believe in number 1, but he didn't show number 2 today, or against Fiji. Very likely drop against Mexico.
Kwon Changhoon – 6 – Outmuscled but he hustles hard. Gotten better at corner kicks, although his free kicks are suspect. Like against Fiji, didn't steal any headlines… he is by far more effective in a central role.
Hwang Heechan – 7 – If Hwang knew how to finish, he would be an incredible player and would have won this for Korea, given the opportunities he had. Instead, he is a good player and played well for Korea. A surprise starter, he was quick, nimble, scored the first goal and assisted Son's goal, but if he had taken one more chance, or jumped in the wall on Gnabry's equalizer, I would be writing a different headline.
SUBS
Lee Chandong – 6.5 – Physical as advertised, but needed to stop Meier from running the channel so easily on Germany goal number two. Otherwise did his job.
Suk Hyunjun – 6.5 – Yeah, he scored a tap-in, but come on. He needed to finish the 3v1. His cough-up gave Germany one last chance. Takeuchi's right – he doesn't seem to be 100% and his injury may be bugging him still.
Ryu Seungwoo – N/A – Didn't have time to affect the match. His resting means he will have to start against Mexico.
Video Highlights
Nothing yet,but here's gifs of the Korean goals:
Although the team blew it at the end, a point is a point. Against Germany, in this tough group, that's a point gladly taken at the end of the day. We can only hope that the players are inspired by the disappointment of conceding in injury time and put in this kind of performance against Mexico, our final group stage opponent of the 2016 Rio Olympics. A loss will see the team out (provided Germany beat Fiji), but a draw or victory sends Korea into Quarter-Finals, maybe even as group winners.
Shin Taeyong said Korea was going "all-in" today. It's almost as if he won his bet, left the table and then got robbed on the way out of the room. It's time to go back to the table with what is left and go "all-in" once again. Mexico, take your seat.